Museum Calendar for the current month
01
02
03
04
05
06
07
08
09
10
11
12
13
14
15
16
17
18
19
20
21
22
23
24
25
26
27
28
29
30
31
clo
sed
clo
sed
clo
sed
clo
sed
clo
sed
There are a variety of venues in the Museum where you can stop over for an enjoyable break or meal. Enjoy organic coffee in a relaxing cafeteria space with plenty of natural light and beautiful view over Sagami Bay at the café. Take to the Tea Garden and find Hana-no-Chaya, which serves Japanese-style meals and sweets, the teahouse Ippaku-an for a bowl of matcha and seasonal Japanese sweets, or savor authentic soba buckwheat noodles at Nijo-shinmachi Sobanobou. Each place offers their specialty menus that bring delight to your break moment.
Taking in the charms of the tea garden throughout the changing seasons; experiencing traditional Japanese culture in the reconstruction of Ogata Korin's Residence; browsing in the museum shop; taking a break for lunch or tea in one of the cafes. There are so many ways to enjoy your day at MOA Museum of Art.
MOA Museum of Art reopened on February 5, 2017, after renovation. The lobby area, exhibition galleries, museum shop, and café station are designed by New Material Research Laboratory (NMRL), which led by world-renowned contemporary artist Hiroshi Sugimoto and architect Tomoyuki Sakakida. Contrary to its name, NMRL is focused on researching materials and techniques used in ancient, medieval, and early modern times, and finding ways to incorporate them in contemporary architecture to pass down to the future. They are exploring a myriad of possibilities to design incredible spaces for the MOA Museum of Art.
About Museum's Collection
More
The collection of the museum is presently composed of approximately 3,500 works of art that include three national treasures, Ogata Korin's Red and White Plum Blossoms screens which has been recognized as one of Korin's most famous works, Nonomura Ninsei's Tea-leaf Jar with perfectly composed wisteria design, the Calligraphy Album "Tekagami Kanboku-jo" which is considered to be one of the three great ancient calligraphy albums containing outstanding works from Nara to Muromachi period, as well as 66 important cultural properties.
The collection spans widely over paintings, calligraphy, crafts and sculptures. These outstanding works are well preserved and indispensable to tell the art history of Japan and it is one of the special features of the collection.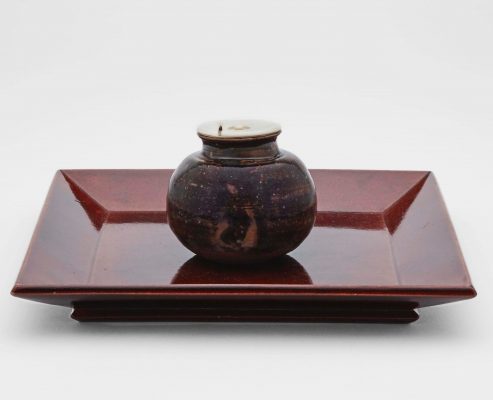 Today's pick up
Tea Caddy of the Bunrin (round-shouldered) type; known as 'Hamuro Bunrin', O-meibutsu
Period

China, Southern Song - Yuan dynasty, 13th - 14th century
This is a tea caddy of a type called bunrin from its round apple-like shape. This particular piece, which was …
About our Activities
More
MOA Museum of Art is promoting a wide range of art 'aesthetic education' activities which not only include art exhibitions but also 'the Children's Art Exhibition', 'the Smile Children Choir', 'the School Programs' and 'Kohrinka Club (flower arrangement class)'.