Exhibitions
Utamaro and the Golden Age of Ukiyo-e
2018.08.31(Fri) - 2018.10.02(Tue)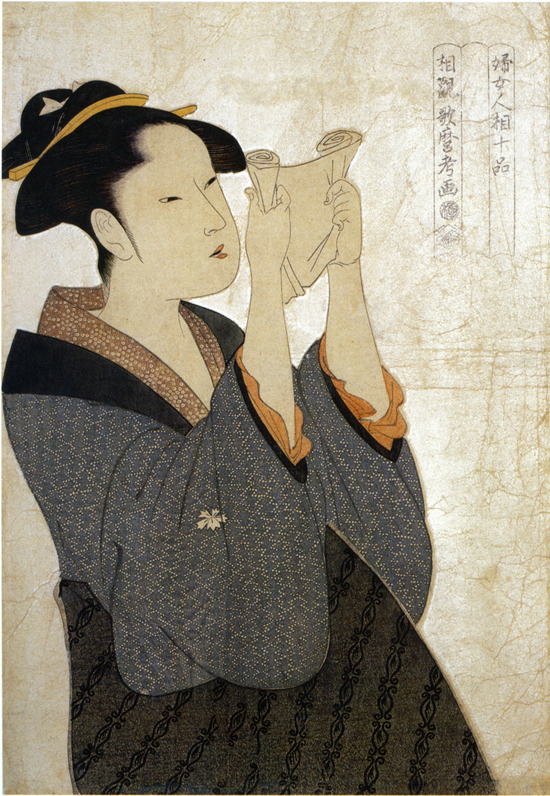 Overview
 Thematic exhibition from the Qing dynast
Highlights
1.Golden age of Ukiyoe—masterpieces of celebrated painters
An exhibition to showcase excellent ukiyoe prints and paintings from the Museum collection. Exhibits include brush-painted bijingas of Utamaro (his Two Beauties on a Pier is an example of the artist's exquisite depiction of female figures) as well as Katsukawa Shunshō, Chōbunsai Eishi and Utagawa Toyokuni. Ukiyoe in woodblock printing encompasses popular artists, such as Seicho, Utamaro and Sharaku, who represent the golden era of ukiyoe art.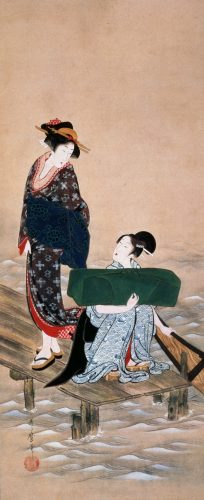 Two Beauties on a Pier by Kitagawa Utamaro: color on silk / 18th century
2.Utamaro and ōkubi-e 
During the period of Kansei (1789–1800), Utamaro published a series of female portraits in a particular style known as ōkubi-e, depicting only the face or upper torso of women. This sensational attempt of drawing women had a significant impact on the genre of bijinga, bringing fame to the painter. The exhibition includes early works from Utamaro's Bijin Ōkubi-e, such as "Beauty reading a letter" from the 'Ten Types of Female Pysiognomy.'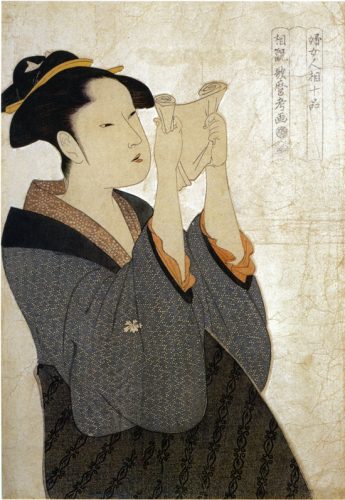 Ten Types of Female Pysiognomy—Beauty reading a letter by Kitagawa Utamaro: woodblock nishiki-e / 18th century
3.Only two in the world—rare work of Sharaku
Tōshūsai Sharaku is a mysterious ukiyoe artist—he was unknown before May of 1794, and he disappeared in January 1795, after producing 140 portrait prints of Noh actors and sumo wrestlers during this 10-month period. The exhibition presents a rare three-piece woodblock series Daidozan in the Sumo Ring. There are only two known specimens that exist in the world, and its woodblocks were found in 1987, among the collection of the Museum of Fine Arts in Boston, USA, stirring media interest. The sumo wrestler Daidozan is an actual figure, who was said to be 1.2 meters high and weighed 80 kilograms at the age of eight. The legend has it that this idol of the public in Edo was featured in the opening ceremony of a sumo tournament held in Ryogoku in 1795. The series include the views on both sides of the ring, where other wrestlers stand by, some famous ones such as Tanikaze and Raiden recognized among them.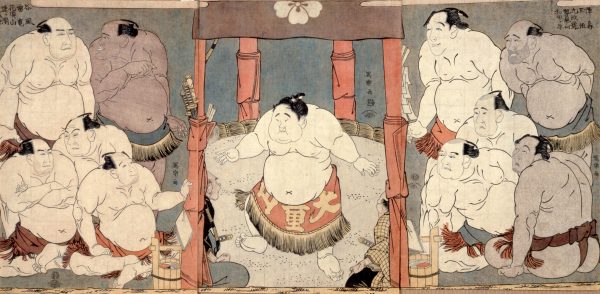 Daidozan in the Sumo Ring by Tōshūsai Sharaku: woodblock nishiki-e / 18th century
4.Brush-painted ukiyoe masterpieces—"Snow, the Moon and the Cherry Blossoms" and "Women's Lives in Twelve Months"
There are only handful of ukiyoe paintings classed as the registered important cultural property of Japan. The museum holds two of them in its collection, both of which are by Katsukawa Shunshō.  
Active during the mid-Edo period, Shunshō is one of the best ukiyoe painters for his mastery of brush work.
His Three Beauties Representing Snow, the Moon and Cherry Blossoms depicts three women in the contemporary settings, modeled on prominent females of the Heian era (9th century): Sei Shōnagon, Murasaki Shikibu and Ono no Komachi, who are depicted as a samurai-class dame, a young lady of a samurai family and a geisha, respectively. Each figure uniquely represents the trends in hairstyles and fashion in Edo.
The series of female portraits entitled "Scenes of Women's Lives in the Twelve Months" depict beautiful women in exquisite costumes, taking a pose against a background that illustrates the seasonal images. The detailed drawing of the women's colorful attire is executed superbly, making them Shunshō's best works from the height of his career.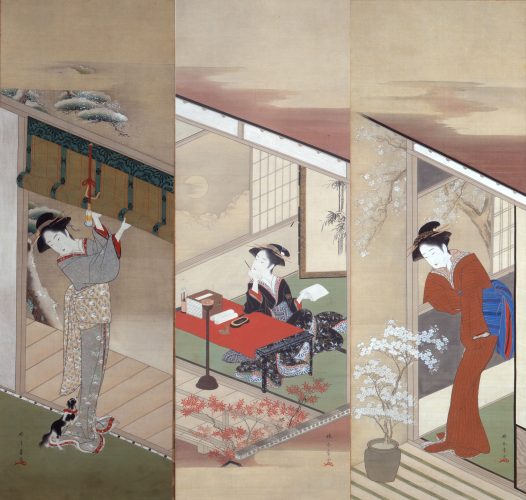 Three Beauties Representing Snow, the Moon and Cherry Blossoms by Katsukawa Shunshō: color on silk / 18th century