Events
Concert and Performances
Noh Theater "Aoi no Ue (Lady Aoi)" by Kanze
2021.05.22(Sat)
ATAMIZA May event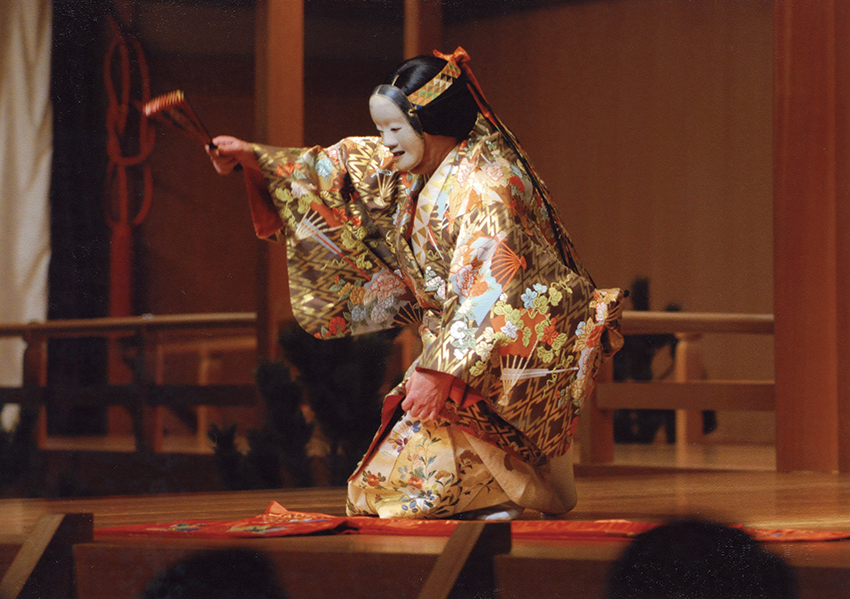 Overview
From the world's popular holiday destination Atami, ATAMIZA presents cultural events, showcasing traditional Japanese performing arts and music, as part of the City's initiative to promote its rich local hot spring spa culture for the international tourism. The next ATAMIZA event is hosted by the prestigious Noh company Kanze, perfroming Aoi no Ue.
This is a play adopted from Japan's classic literature the Tale of Genji, which is widely appreciated and highly acclaimed even outside Japan today, for example, in a major exhibition "The Tale of Genji: A Japanese Classic Illuminated" held in the Metropolitan Museum of Art in the USA.
In the story, Hikaru Genji spends most of his time pursuing the image of his late mother Fujitsubo and, along the way, entertains many romantic liaisons. The episode "Aoi no Ue" tells a story of jealousy, featuring Hikaru's first wife Aoi no Ue and his mistress who is seven years older than her.
This is a woman of high prestige, once a royal princess, but her impeccable arrogance eventually pushes her suitor away. Longing to catch a glimpse of her estranged lover, she ventures out in her private carriage to the Capital's famous Kamo festival. On the way, her party is forced to divert by a fleet of Aoi no Ue's carriage and its entourage. Embarrassed and enraged, the mistress became determined to put a curse on her.
Aoi no Ue falls spellbound, and a priestess is called in to identify the culprit of this witchcraft. The ritual act makes the haunting spirit manifest, and its true identity is revealed. The spirit of the living mistress is burning with jealousy, but the prayer offered by a mountain Buddhist, Yokawa no Kohijiri, appeases her monstrous bitterness and makes her disappear.
The stage features Kanze Kiyokazu, the 26th principal of the Kanze company, who breathes life into this piece of classic literature to enthrall you.
◆2021 ATAMIZA May event - Noh Theater

Date: Sat. May 22, 2021 starts 13:30
Program: Noh Theater "Aoi no Ue (Lady Aoi)" with arrangements of Azusa no de and Sora no inori
Principal: Kanze Kiyokazu
Counterpart: Takeda Munenori
with Fukuo Kazuyuki, Yano Shohei, and Yoshitake Daijiro
Flute: Matsuda Hiroyuki
Percussions: Kanze Shinkuro (kozutsumi), Yasufuku Mitsuo (ozutsumi), Kajitani Hideki (taiko)
Interlude (Kyōgen performance) "Legendary sword Nagamitsu"
Performed by Yoshitake Juro, Yoshitake Daijiro, and Shimano Shinji
Tickets:
SS: ¥8,000 (Member concession: ¥7,000)
S: ¥7,500 (¥6,500)
A: ¥5,000 (¥3,500)
B: ¥4,000 (¥2,500)

*The Noh Theater ticket includes the museum admission fee.
Visitor information about COVID-19 precautions in place at MOA Museum of Art
・Use the hand sanitizers provided at the venue
・Regular disinfection of door handles, seats, etc. is in operation
・Museum staff will be wearing a mask to attend our visitors
Please ensure that
・You wear a mask and cover your mouth when coughing or sneezing
・You refrain from attending the event if you have symptomatic conditions, such as coughs, sore throat, high temperature, and lethargy.
Thank you for your understanding and cooperation.
【Inquiries】
The Noh Theater Department, MOA Museum of Art (Tel: 0557-84-2500)