Exhibitions
Iwasa Matabei – The Tale of Princess Jōruri
2018.04.27(Fri) - 2018.06.05(Tue)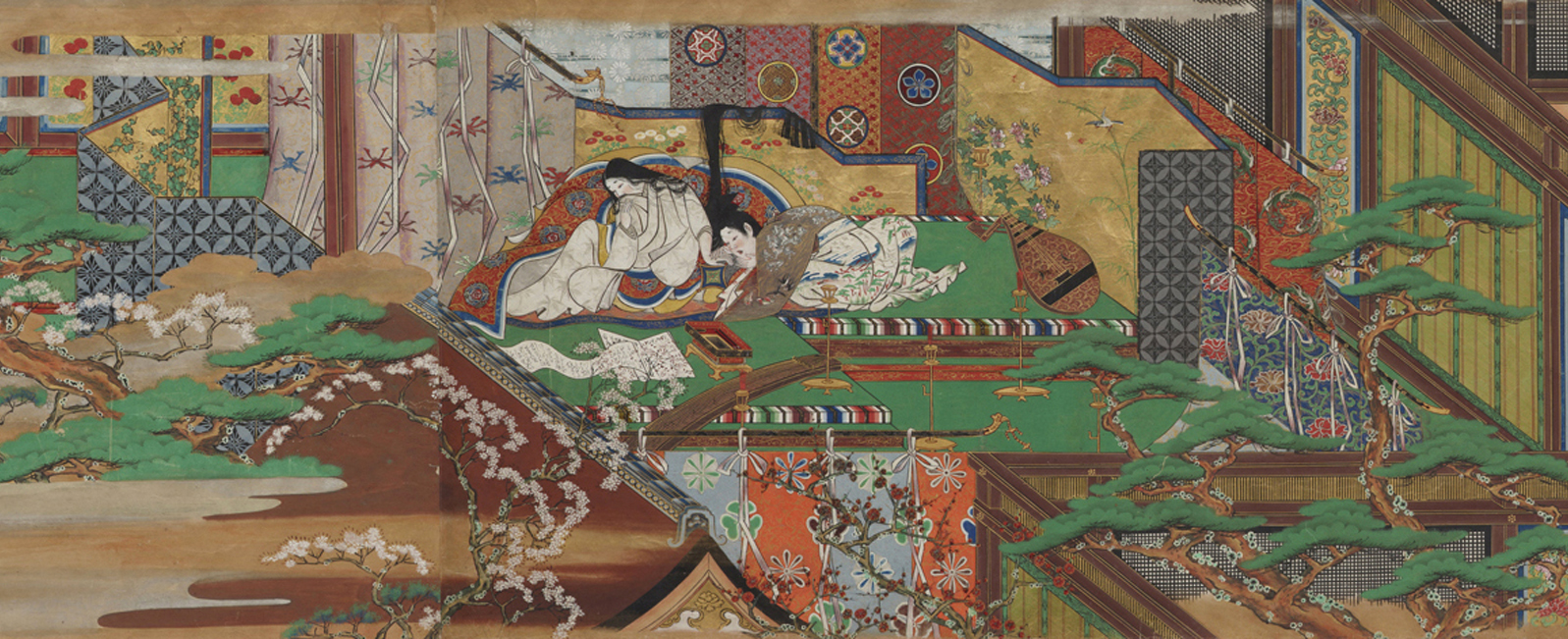 Overview
Iwasa Matabei (aka Katsumochi, 1578-1650) was an influential figure in Japanese painting with his characteristic depiction of people with roundish elongated faces. His technique that amalgamated Japanese and Chinese drawing methods stirred the imagination of the nation. He thrived in poetry illustration, genre painting and story depictions. His scrolls based on the scripts of classic Jōruri tales were luxurious and became an epitome of Matabei's career as a painter. The scroll The Tale of Princess Jōruri depicts a love story between a traveling young man Ushiwaka and a young daughter of a Lord of Yahagi in the domain of Mikawa. Expensive materials such as gold leaves, gold and silver paints, verdigris and azurite generously applied, this is one of the most elaborate scroll picture stories attributed to Matabei.
This exhibition presents the entire series of 12 scrolls, a rare opportunity organized for the first time since 2014. Be absorbed in the charm of Matabei's finesse - the exhibition also includes other masterpieces from Matabei collection. The Tale of Yamanaka Tokiwa (Tome 1) is considered to be the scroll Matabei was most deeply involved in its creation. The Tale of Horie (Tome 6) tells a story of baron Horie of the Shimotsuke domain who avenges his father's death. The Important Cultural Property Kakinomoto-no-Hitomaro and Ki-no-Tsurayuki takes themes from Yamato-e paintings, depicting poetic saints with his liberal execution of the Chinese monochrome painting technique.
1. A complete series of The Tale of Princess Jōruri (Important Cultural Property)
Known to be one of the best in Matabei's scroll works, The Tale of Princess Jōruri is a registered important cultural property of Japan. The complete series is rarely shown in exhibitions, and this occasion is the first time in four years at MOA Museum of Art. The alluring story-telling stretches over 70 meters.
2. Study the details clearly through the ultra-high-transparency glass
Matabei's works are notably very detailed. Our galleries are installed with low-reflection high-transparency glass - you hardly notice that you are looking through a glass pane as you study the artworks on display. You can also take photos.
*Please refrain from using a tripod, unipod or flash as these may disturb other visitors.
3. Absorb the excellence of Matabei to your heart's content - three items of Important Cultural Properties
MOA Museum of Art holds 16 pieces of Matabei's work, including 4 Important Cultural Properties and 3 Important Artworks. The collection is an invaluable source of information to study the artist. At the exhibition, you can view three of these culturally important items together, namely the Tale of Princess Jōruri (Tomes 1-12), The Tale of Yamanaka Tokiwa (Tome 1) and The Tale of Horie (Tome 6). It also includes another piece of ICP: Matabei's Kakinomoto-no-Hitomaro and Ki-no-Tsurayuki.
Tome 1 
Ushiwaka is a young heir of the Minamoto clan. When he was 15 years old, Ushiwaka leaves his adobe at the Kuramadera temple in Kyoto and heads north to seek assistance from the Fujiwara clan of the Mutsu province to conquer the all-powerful Taira clan. To hide his true identity, he joins a traveling gold merchant from Mutsu, named Kichiji, and disguises himself as a footman. The journey proved to be demanding. They make a stop at Yahagi (present day Aichi prefecture). Ushiwaka goes out for a walk and becomes enticed by the music emanating from inside the estate of a local chief. Upon recognizing that the music is missing a flute part, he takes out a classical flute named semiore, which he always carries on him, and starts improvising to the tune from outside the house.

Tome 2
Princess Jōruri is playing the koto (a Japanese stringed musical instrument). When she notices the flute, she stops the band and marvels at the sound. Jōruri sends her lady-in-waiting, Jugoya, to find out who is playing the flute. Having witnessed the handsome young man playing, Jugoya returns and describes this noble figure in detail. Understanding that this must be a man of pedigree, Jōruri composes a short poem and makes Jugoya deliver it to the man.

Tome 3
Jōruri receives a letter from Ushiwaka. The eloquence in the letter gives Jōruri the impression that this man is not what he appears to be. She makes arrangements so that her ladies-in-waiting invite him in. Inside the estate, Ushiwaka plays music with the ladies. Moved by the sound of the koto, he grows curious to have a glimpse of its player, who is sat behind blinds. Then a gush of wind blows up the blinds to reveal the princess. Their eyes meet, and they are immediately attracted to one another. Later that day, Ushiwaka returns to the residence. With the help of Jugoya, he sneaks into Jōruri's luxurious chamber.

Tome 4
Ushiwaka approaches Jōruri's chamber through elaborately decorated rooms. As he slips into her chamber he peeks in over the folding screens and finds her asleep in her bed. Ushiwaka's words of courting wake her up. Surprised at his presence, Jōruri asks him to leave. He tries to seduce her by citing various anecdotes. No matter how many luring stories he tells, however, Jōruri refuses to yield.

Tome 5 
Ushiwaka persists with his words of seduction, but Jōruri adamantly abstains. She warns Ushiwaka that, if her mother finds out about his courting, he may be punished by deportation or, worse, by death, but he remains undeterred. She is overwhelmed by his persistence, and yet she thinks it inappropriate to yield to his desires as she is in mourning for her late father. She begs him to understand her circumstances and abandon his courting. Then, Ushiwaka reveals his own identity, persuading her that his circumstances are no stranger to hers. Finally, Jōruri allows to open up to him. They spend a night of consummation.

Tome 6
Come the morning, Ushiwaka is going back to his journey. Jōruri attempts to keep him for another night, but he has no choice but to go. He promises that he would come to see her once again. They exchange poems and he plays his flute for the farewell. The sound of the instrument reaches the mother, who appears followed by her ladies-in-waiting. Upon her arrival, Ushiwaka wields his magical power to make himself disappear and catches up with the gold merchant's troop on their way to the northern countries. Left alone, Jōruri is distraught, only to have Jugoya to listen to her lament over the young man.

Tome 7
Ushiwaka continues with the journey disguised as a footman of Kichiji. As time passes, his feelings for Jōruri hang heavily in his mind and drag his pace. After lodging in Ikeda, the party moves on its way to Mutsu, passing Mitsuke, Fukuroi, Kakegawa and Nissaka, followed by mountainous Koyo and Utsu.

Tome 8 
When arrived at Kanbara (present day Shizuoka prefecture), the party takes lodging at an inn, Kikuya. The inn-keeper throws a generous reception for the troop. Exhausted physically and heartbroken, Ushiwaka succumbs to illness. Kichiji and his troop could not procrastinate. Against their wishes, they decide to leave the young man with the inn-keeper Yoichi and continue with the journey, entrusting him with substantial amounts of gold and silk.

Tome 9
When Yoichi's wife sees the elegant young man in his sick bed, she tries to persuade him to take their daughter in matrimony. Taking offense at his decided indifference, she hires some men while her husband is away and orders them to throw this sick young man into the sea. However, the men took pity on Ushiwaka for his charm and sophisticated elegance, and they leave him under the pine trees that line the coast. The treasures of Minamoto clan, which are left at the inn, turn themselves into creatures such as a child, serpent, dove and raven, and they come to Ushiwaka to watch over him on the beach.

Tome 10
The guardian deity of the Minamoto clan incarnates into a traveling monk and approaches Ushiwaka. The young heir entrusts a letter to this monk, who traverses the distance instantaneously to deliver it to Jōruri in Yahagi. Upon reading the letter, the princess could wait any longer, and she sets out, without telling anyone, on a journey after Ushiwaka. Accompanied only by her lady-in-waiting, Reizei, the young princess makes through an arduous journey and reaches the Kanbara station. However, they are denied of accommodation because people feared that these two beautiful young ladies, traveling without an entourage, could be demons. The two travelers arrive at Tsujido, only to find themselves in a storm. While taking refuge in a hut, an old nun appears. She is Gongen of Hakone personified, and she tells Jōruri that the young person she is after is dead.

Tome 11 
Jōruri recovers the body of Ushiwaka on the beach. Devastated, she cries over his body. Her tears stream down on his lips. Miraculously, they bring him back to life. Reizei makes dedicated prayers to god so that Ushiwaka regained strength. Ushiwaka makes a pledge that, once the Minamoto clan regains their rule of the country, he will come to claim Jōruri as his wife. He makes a pair of Tengus (a mythological creature) to take the ladies back to Yahagi. Back on his way, Ushiwaka finally joins Fujiwara Hidehira and, with his support, organizes a strong troop to conquer the Taira clan in Kyoto. Marching down to Kyoto, Ushiwaka stops at Yahagi and calls in the estate of the local chief.

Tome 12 
The local chief throws a lively reception, but Jōruri is nowhere to be seen. There appears Reizei dressed as a nun, and she tells Ushiwaka in tears what became of the princess - when she returned, her mother was beside herself that the daughter was courted by a footman and ran away after him. Jōruri was disowned, and she spent the rest of her life alone in misery, and finally she passed away. Ushiwaka takes to her grave and holds a service for pacifying the soul of the deceased. As he recites a poem dedicated to Jōruri, a response comes sounding from the grave. The grave stone cracks and a small piece flies into Ushiwaka's bosom. Convinced that his prayers helped her to find the way, Ushiwaka orders the construction of a temple on the spot and names it Reisen-ji. Ushiwaka orders his men to punish the mother, who is then drowned in the Yahagi river. Eventually, Ushiwaka conquers the Taira clan to bring Minamoto back to glory, but this heart-breaking story stayed with people forever.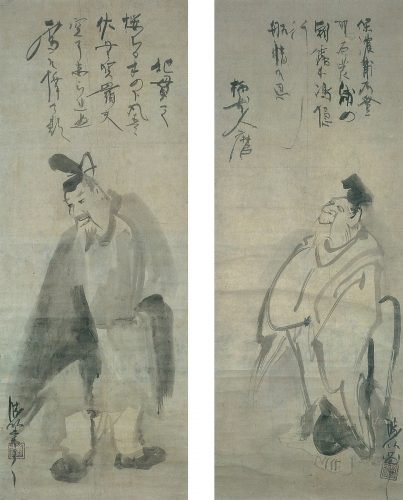 PORTRAITS OF POETS: KAKINOMOTO-NO-HITOMARO AND KI-NO-TSURAYUKI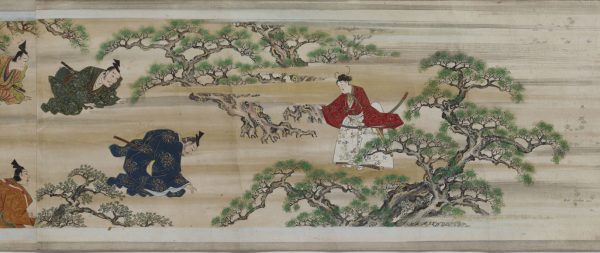 THE TALE OF YAMANAKA-TOKIWA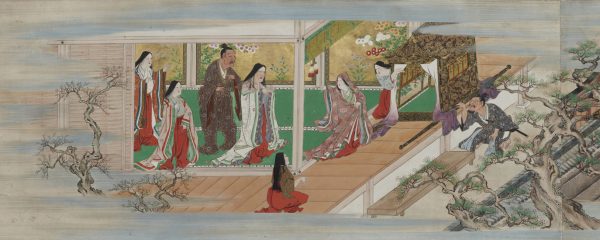 THE TALE OF HORIE