Special Talk: Hiroshi Sugimoto & Tokugo Uchida on the glamour of the renovated MOA Museum of Art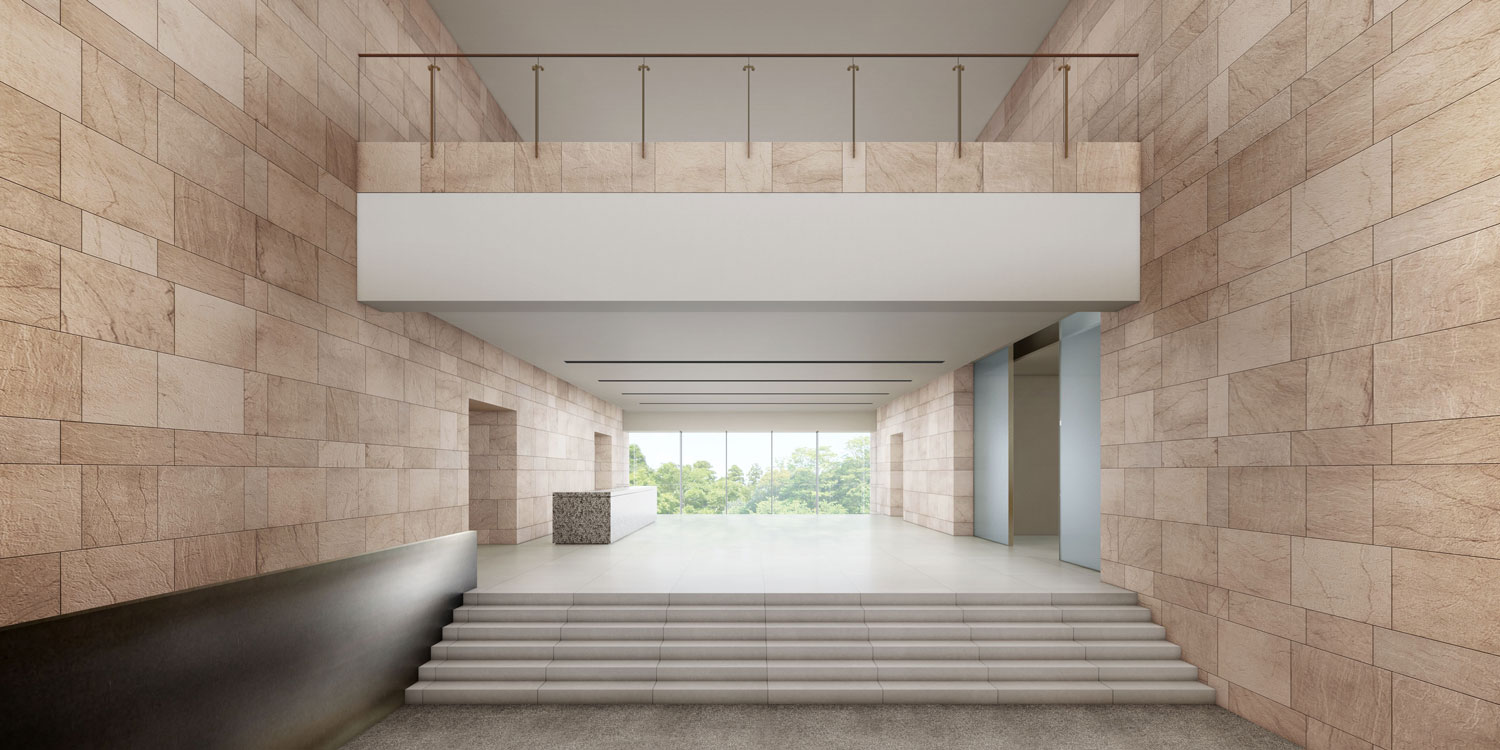 Hiroshi Sugimoto (Contemporary Artist) and Tokugo Uchida (Executive Director of MOA Museum of Art and Hakone Museum of Art) discuss the glamor that is realized in the renovation work
MOA Museum of Art reopened its doors on February 5th 2017 after a renovation which started in March 2016. The renovation has been lead by one of the world's most active contemporary artist Hiroshi Sugimoto. Mr. Sugimoto has succeeded to create a space that best brings out the beauty of art objects. We've asked Mr. Sugimoto to tell us about the glam of the newly renovated MOA Museum of Art.
(This interview has been conducted before the reopening of the museum.)
Hiroshi Sugimoto
Sugimoto was born in 1948 in Tokyo. Graduating from Rikkyo University in 1970 He moved to the United States to study photography at the Art Center College of Design in Los Angeles, then relocated to New York and has lived there since 1974.
Sugimoto's exquisite photographs, taken with a large-format camera with a clear concept in mind, are highly acclaimed internationally. He has received numerous awards including Hasselblad Foundation International Award in Photography in 2001, Premium Imperiale in 2009, and in the Officier dans l'Ordre des Arts et des Lettres (The Order of Arts and Letters) by French Government in 2013.
In recent years, he has broadened his scope of activities to include writing and designing. In 2008, founded New Material Research Laboratory (NMRL), an architectural design company with architect Tomoyuki Sakaida. NMRL has undertaken many projects, including the interior design of the Izu Photo Museum (2009, Shizuoka) and London Gallery (2009, 2011, Tokyo).
A perfect space with spreme light
I wanted to see the MOA Museum of Art's Japanese cultural treasures displayed in the best possible space with the best possible lighting. For me, that meant the same light that Ashikaga Yoshimasa saw in the Togudo at Jishō-ji Temple or that Sen no Rikyū, the tea master , saw in his Taian teahouse. To achieve this kind of premodern lighting in the museum interior, I insisted on the use of premodern materials: Yakusugi cedar, black plaster and tatami. The mission I set myself was to showcase the premodern inside a museum, which is itself a modern invention. After considerable experimentation, I overcame all the challenges and was able to include the latest optical technology in a very discreet, behind-the-scenes manner. I transformed what is oldest inside of me into something new.
Uchida
I appreciate you for taking the time today.
At this time renovation, we've asked you to design the museum entrance, lobby area, exhibition galleries, museum shop, and café station. And we've received your fundamental design concept "Supreme Light, Supreme Setting" in writing, and you referred to light and construction materials. Could you speak of your design features of each area which includes the use of Yakushima cider and black plaster?
Sugimoto
Sure. I've visited "Tokyu-do" of Jisho-ji Temple and spent some time there, and was able to experience the light that Ashikaga Yoshimasa perhaps viewed, the beautiful soft light transmitted through the shoji screens. It is difficult to prepare such setting with pre-modern lighting in the present-day art museums. Still, for viewing art objects like kinpeki-shohekiga (paintings on gold-foil-pressed paper) or byobu (folding screen) and fusuma-e (sliding screen paintings) in temples, I think such pre-modern lighting is the best. Soft natural lighting makes those artworks appear the most beautiful. Too-harsh or too- bright lighting ruins it. So, I carefully controlled and suppressed the brightness of lighting to a moderate degree and artificially produced soft natural-like light. Nowadays, the Agency for Cultural Affairs is quite strict about preservation or conservation of artifacts. Therefore, while meeting their strict requirements, I tried to reproduce the light of medieval time.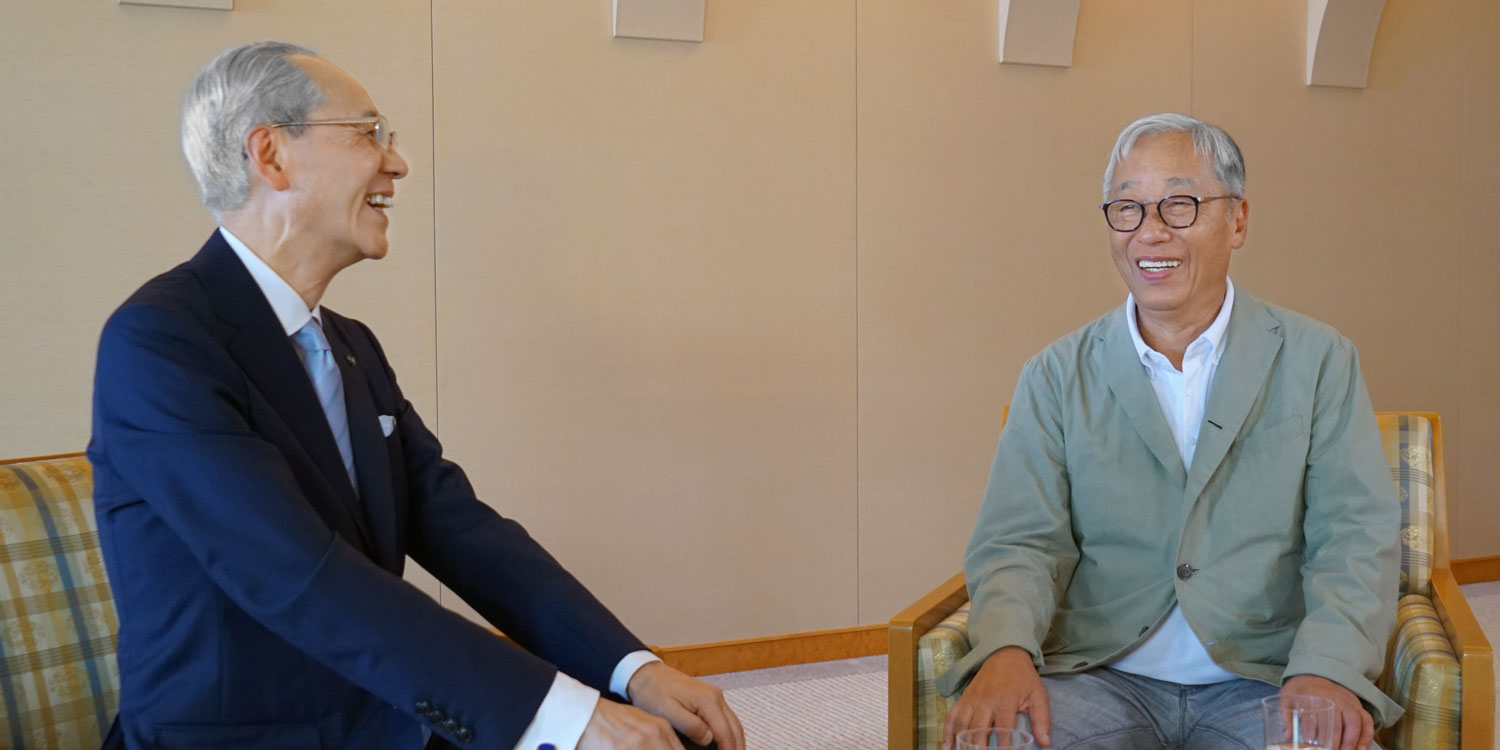 Walls coated with black plaster to avoid light reflections
Uchida
Could you tell us about Japanese plaster? The room, in which National Treasure Nonomura Ninsei's the "Tea-leaf jar with a design of wisteria is exhibited, has walls coated with black plaster. I understand that one of your concept of photography is "Dark Room / Black Box", and   in the catalogue of your exhibition "End of Time (See Note 1)" held at Mori Art Museum, Kerry Brougher stated that (See Note 2) "for Sugimoto, the gallery space itself becomes an extension of black box." Also, Junichiro Tanizaki refers to his memories at Sumiya teahouse in Shimabara Kyoto as "the color of the shadow lit by candlelight." I feel that such sense of beauty for light unique to Japan, which is also seen in your concept "Dark Room" and Tanizaki's "In Praise of Shadows", was incorporated into your design of the room with black plaster walls. What are your thoughts on this?

Note 1: The first comprehensive retrospective exhibition of Hiroshi Sugimoto in Japan in 2005. After that, travelling exhibitions were held at four different museums in America under the title "Hiroshi Sugimoto."
Note 2: Kerry Brougher has served as curator at several museums. At that time, he was serving as chief curator of the Hirshhorn Museum and director of Sculpture Garden Museum Arts and Programs.

Sugimoto
Tanizaki's "In Praise of Shadows" has already been translated into English. And in America, it is kind of must-read book for students studying architecture. So, this book is, in a sense, more familiar in America than Japan.
When viewing art objects, I don't like to see them exhibited in the glass display cases. Annoying reflection, especially light reflection causes quite a nuisance and obstructs a clear view. It can be solved by creating shadow on the walls facing the display cases so that nothing will reflect on the glass case. The use of non-reflective glass for display cases, the viewer can concentrate on the objects contained within without noticing the glass-although it might put viewers in danger of hitting their heads on the glass as they attempt to peer closely at the works. This is why I used black plaster for the walls in the exhibition galleries. In addition, black plaster is one of the great Japanese traditional building materials. The shadow of black plaster, however, is not just complete darkness. The shadow has quality, hue or tone. In other words, shadow is a color. In this respect, Tanizaki's shadow has something common to it. And I've designed the room (with black plaster walls) holding the image that National Treasure, Ninsei's Tea-leaf Jar with a design of wisteria is shining in the arm of shadow.
Uchida
In that case, it also relates to the previously mentioned "light of the Muromachi period", so to speak, the light of the shadow, doesn't it?
Sugimoto
If so, it is deductively valid that I intentionally reproduced medieval times.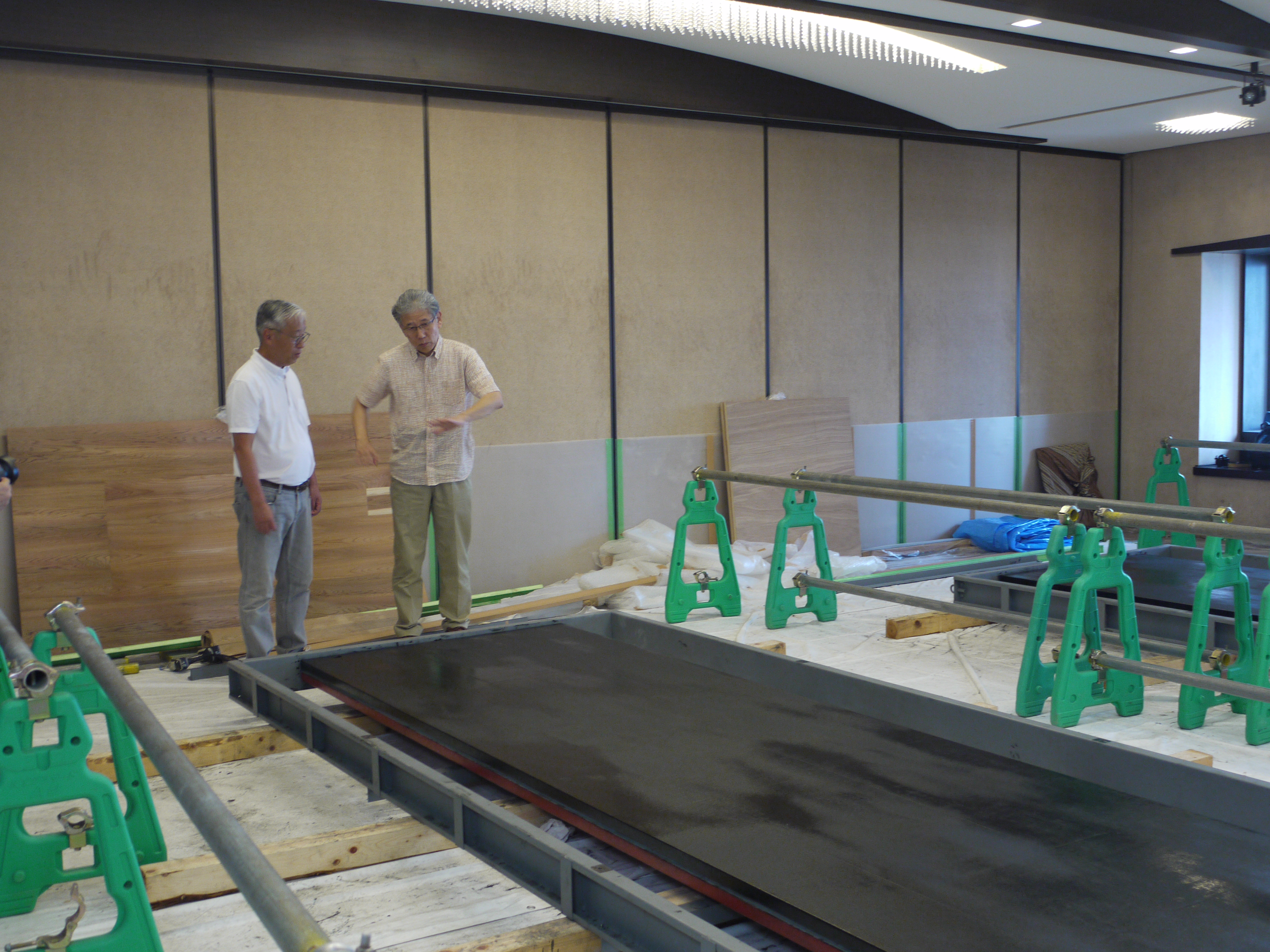 Hiroshi Sugimoto and Kazumi Murose (a Living National Treasure) holding a meeting about the lacquer-coated door.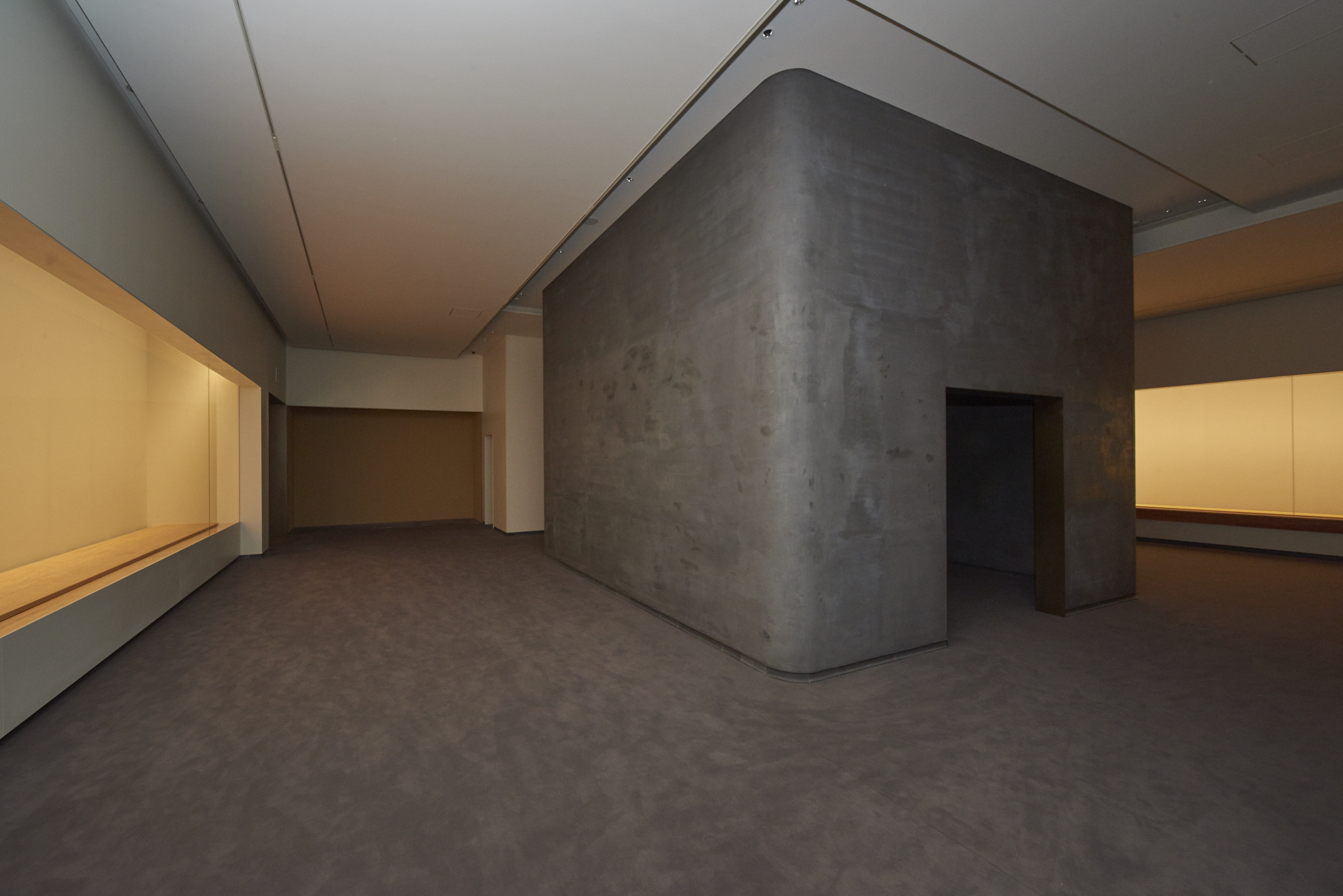 The special room in Exhibition Gallery 2 with black plaster coated walls to display Nonomura Ninsei's "Tea-leaf Jar with a design of wisteria".
The Museum Main Entrance Door
- One of the largest door in the world coated with Japanese urushi lacquer -
Uchida
An urushi artist and a National Living Treasure of Japan, Kazumi Murose has produced the urushi coated door of the main entrance. Could you give us your impression of this?
Sugimoto
Mr. Murose is a master-hand of Togidashi maki-e (burnished maki-e) technique. He does amazingly delicate work. This time, however, he had to work on large doors with a width of 1.2 meters and height of 4 meters. It was hard to approach with delicate artisan craftsmanship. Then, what I came up with was Hijinomaru Tray of the Todai-ji Temple, a masterpiece of Negoro lacquer were. Negoro-nuri features applying vermilion top coat over black base then the surface vermilion urushi lacquer layer is polished in order to allow black foundation layer pattern to show through. I told Mr. Murose about the beauty of this masterpiece of Negoro-nuri, and he agreed with me to go with Negoro-nuri. But when he actually tried to apply urushi lacquer, it was one of the world's largest stainless steel door and it was extremely difficult. So, we incorporated the traditional technique of having a hemp cloth affixed to the base. By using old mosquito net for the base and covering it with black and vermillion lacquer layers, it went perfect and the door have come out excellent. Note 3: Nigatsu-do Rengyo Shuban (Important Cultural Property)
Kamakura period / 1298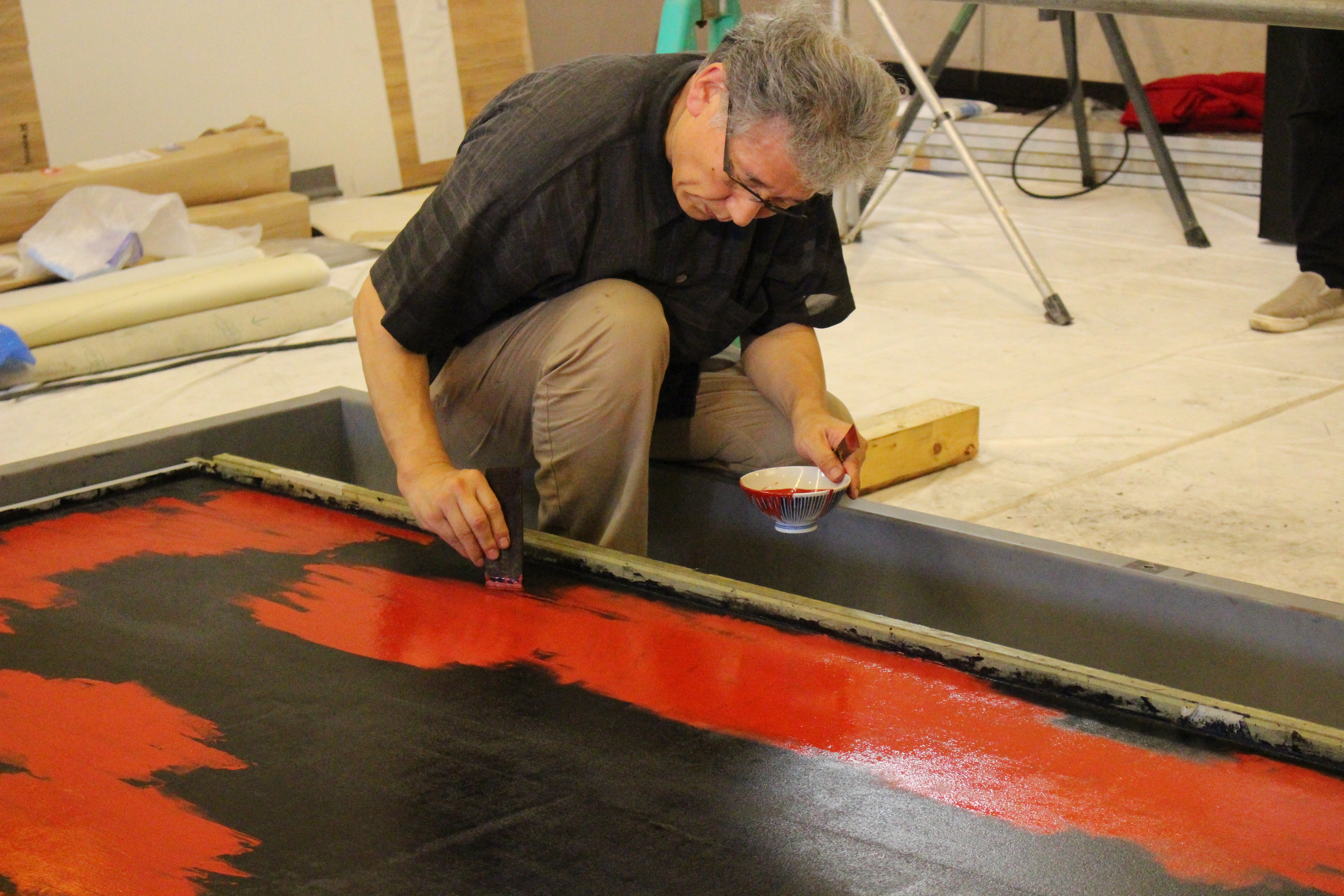 Kazumi Murose (National Living Treasure) painting the door with lacquer
Exhibition Gallery displaying Buddhist Art where Yakushima cider is used for its display cases
Uchida
Actually, it was my idea of having the main entrance door lacquered, and I am so grateful that it was realized with your great efforts. Next, please tell us about your thoughts about the use of Yakusugi cider over 1000 years old for the display cases of "Buddhist Art. Gallery."
Sugimoto
There are a lot of wonderful trees in Japan, but among them, Yakusugi cider, known for its special forest vegetation, was registered as the World Heritage and cutting Yakusugi was enacted by Japanese government. These trees were initially cut down to be used as building materials, so there were some left behind at stores specializing in decorative timber for about 100 years. So, taking this opportunity, I've decided to use Yakusugi cider to have many more people know its goodness or charms. However, I had to ensure base isolation function necessary for display cases as well. It was a touch task to satisfy antagonistic functions requested. Through trial and error, I was able to provide excellent base isolation device for exhibition so as to want to take a patent.
Uchida
Because of your great efforts, the base isolation device has succeeded in achieving the best possible thinness.
Sugimoto
The part of the display case where it looks like tatami is placed actually functions as base isolation stand. The thickness of base isolation stand is usually over 10cm, but if I remember rightly this one made of Yakusugi cider is about 3.5cm.
Uchida
Yes, that's right.
Sugimoto
Giant Solid Yakusugi wood board has been made as a stand to display art objects, and this board with the total length of nearly 10m floats as if it is in the air in case of earthquake and mitigates the effect of an earthquake. There is a seismic base isolation device made of iron set under the Yakusugi board of 6mm thickness so that the iron part would be unseen. There are many wooden Buddhist images but what I've always wanted to try was to view them exhibited on wooden display stand made of precious wood. Display Alcove having seismic base isolation-function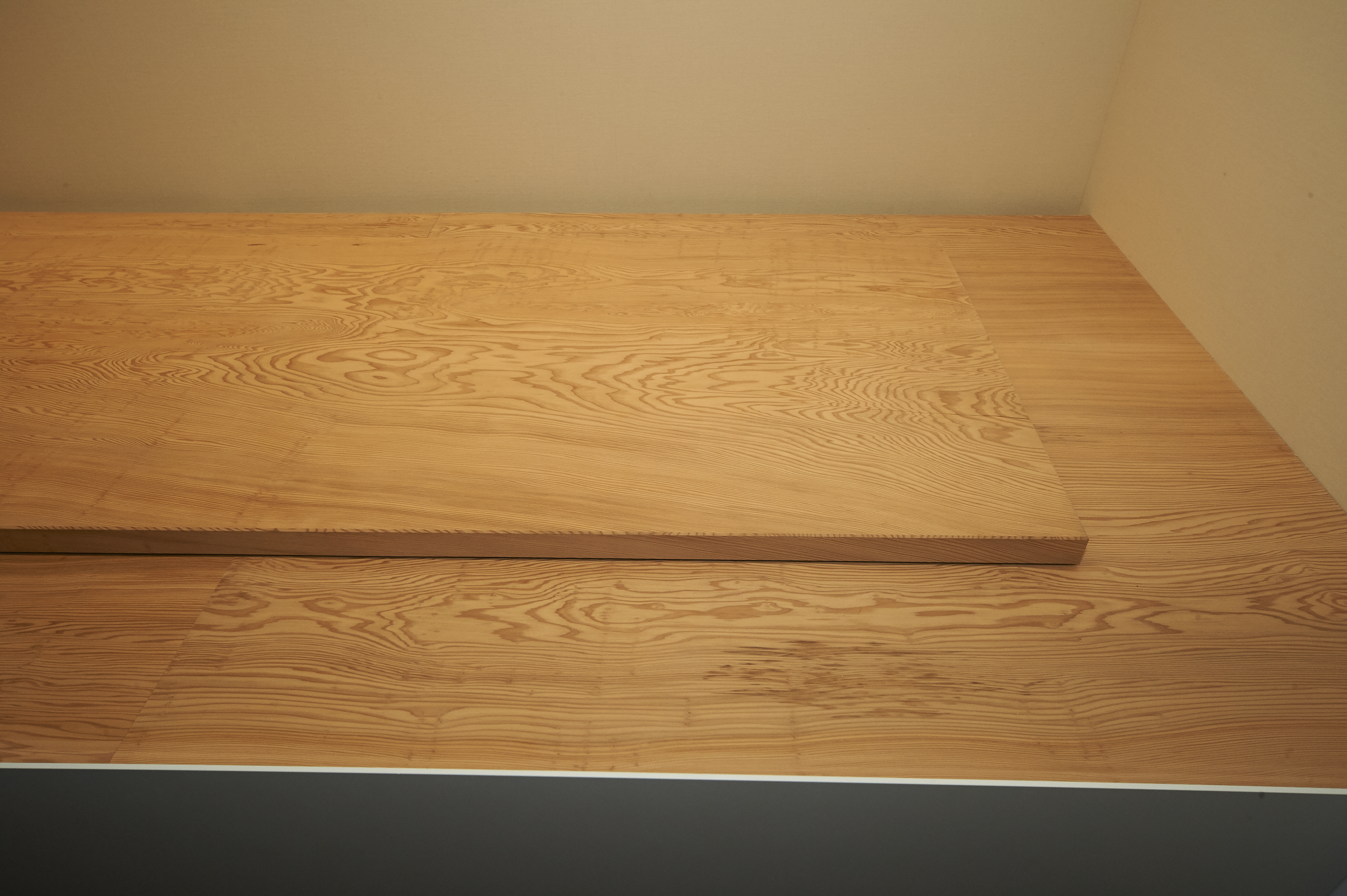 Display Alcove having seismic base isolation-function
The wishes of the founder reflected in the design
Uchida
I am really looking forward to the completion of the renovation. In the renovation of the museum, Mr. Sugimoto has established three basic policies, which are "to create the museum to carry on the wishes of the founder Mokichi Okada", "the fusion of traditional and contemporary design" and "the creation of space with carefully selected materials." Could you tell us little more about these policies?
Sugimoto
I'm a collector of antiquities myself, so I know how great Master Mokichi Okada's collections are. There are many of them that I would want to buy if there were available. For example, when I purchased "the wooden seated statue of Amitabha Tathagata" similar to the one owned by MOA Museum of Art, I immediately visited the museum to make a comparative study of the two.
Uchida
When we asked you to do a designing for our museum renovation, we invited you to visit the Hakone Museum which Okada designed himself. What impression did you have of the Hakone Museum? Please tell us you thoughts.
Sugimoto
There is no question that he had deep love for things. He takes the details seriously. There are many examples but one example being a brazen handrail. Also, the museum has a lot of natural light coming in from outside. I had an impression from the beginning that it was highly sophisticated facility. The museum is rather small but tastefully designed. Most museums focus more on the preservation of the collections, and it is art collectors who pay more attention to displaying or how to make them look more beautiful. Art collectors are accumulating day-to-day research by displaying art in alcove trying to find the best lighting and angle to bring out their best beauty. So, I think the best-qualified person to design an art museum is an art collector who can also design architecture. The use of traditional building materials and skills can conversely bring newness
Uchida
In that sense, selection of building materials this time or the use of Yakusugi cider and shikkui plaster shows the feature of Sugimoto Architecture which ancient skills and materials are incorporated into the space of architecture. Could you tell us how it has been reflected in the design?
Sugimoto
If possible, ancient materials is the best. However, it is quite difficult for a number of reasons including guidelines from the Agency for Cultural Affairs or precise data acquisition. I might be jumping to another topic but for example if we try to build Horyu-ji's five-storied pagoda, it would be in violation of the current Construction Standards Acts. Five-storied timber building would not be allowed to be built and neither it is not quake-absorbing structure. This traditional Timber five-storied pagoda, however, has been structurally survived against a number of earthquakes during 1,200 years. So, conversely it has superior anti-seismic performance, but it would be illegal in the eyes of the law. Such discrepancies may often occur. We have to manage somehow to work with the requirements. The floor tiles, for example, we've asked the craftsmen from Nara Todai-ji Temple employing methods used in the eighth century to make them having the atmosphere of the Tempyo period by firing them at a low temperature. Japanese kuro-shikkui (black plaster) is another Japanese traditional art craft we've used. Shikkui (Japanese lime plaster) provides high humidity-control performance. I believe that using ancient building materials is ideal but it results in a high cost at the same time. It's also time consuming. Yet, I want to avoid using industrial product-like materials as much as possible. I believe that using traditional building materials conversely brings newness.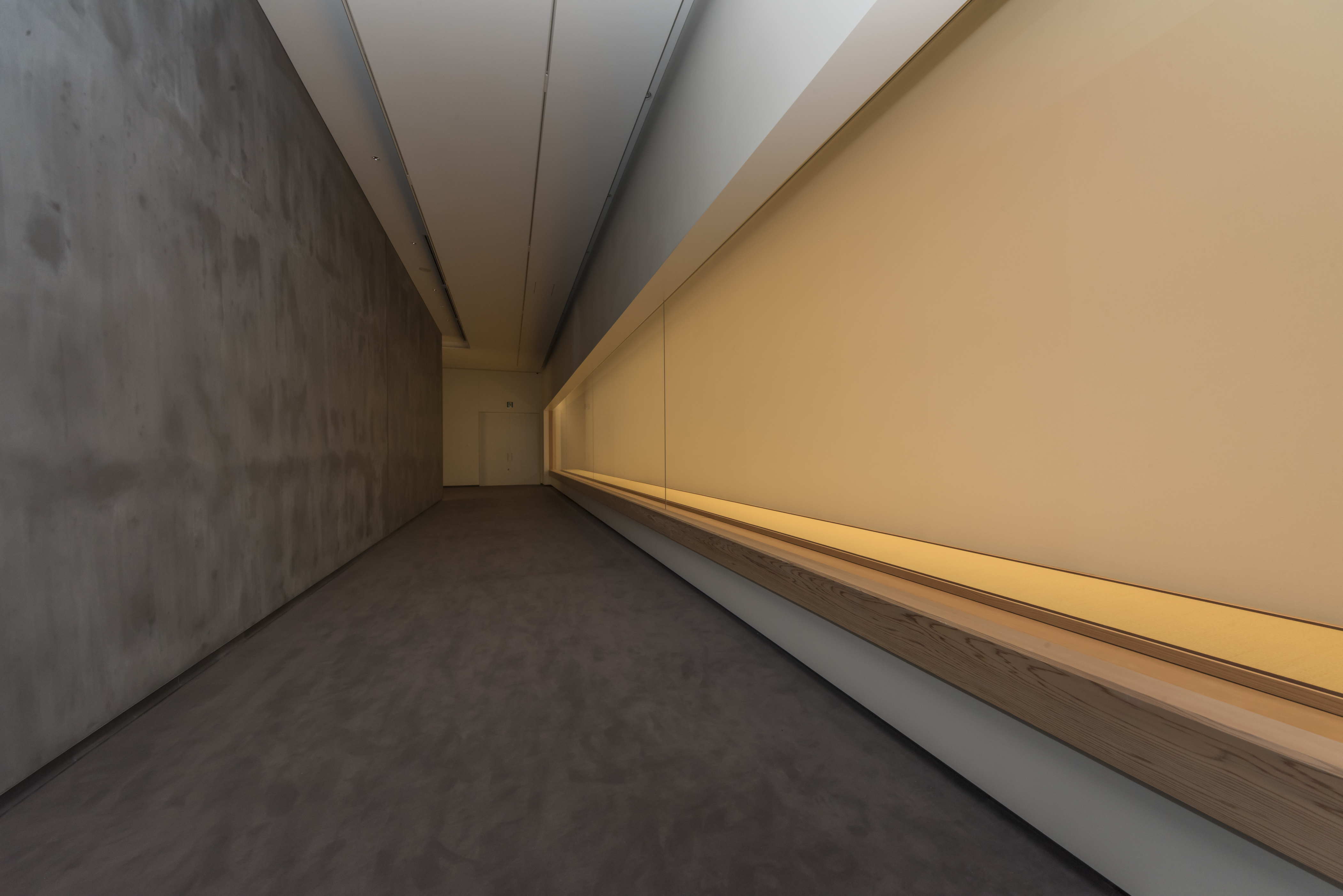 Walls with black plaster help avoid reflection of light on the glass case.
The Golden Triangle: Atami, Odawara and Mishima
Uchida
I've heard that soon after the completion of the renovation and refurbishment construction of MOA Museum of Art, your own art complex, the Odawara Art Foundation will open. There is already Izu Photo Museum in Mishima that you designed. These three museums will make the area 'Arts District' where Sugimoto's architecture is densely built, and expectations for this 'Arts District' are increasing among your fans and the local citizens. Could you tell us about your plans, in what ways are you going to put them to use?
Sugimoto
That's right. In November 2017, The Odawara Art Foundation's Enoura complex by Hiroshi Sugimoto will open. However, we call it 'the Enoura Observatory' instead of art museum.
Uchida
Enoura Observatory?
Sugimoto
Yes. What I mean is that for me it's like a weather station of The Meteorological Agency to observe changes in climate. It is an art complex, or rather the building itself is an art object where visitors can feel and experience changes of the seasons. It will open in November so it is still a little far from now. Mishima has been developed and now it is quite easy to access from the heart of Tokyo, And these three spots, Atami, Odawara and Mishima forms the Golden Triangle.
Uchida
I see.
Sugimoto
I'd like a lot of visitors not only in Japan but also from overseas come visit. So, I will go with this plan.
Uchida
Are you planning any art events including Noh performances and tea ceremonies?
Sugimoto
Two Noh stages are currently in production and I'm also going to build a tearoom modeled on Taian Tea House. However, our Noh stages are not all-weather type and they do not have a roof. You have tea houses and indoor Noh theater in your museum, so I hope that we will corporate and advance a variety of activities together.
Uchida
That sounds great. I'm looking forward to us being able to work together.
MOA Museum of Art
Special Exhibition commemorating its renewal
- Nobunaga + Hiroshi Sugimoto, "Quattro Ragazzi" - (tentative title)
Uchida
Actually, we are planning to hold a special exhibition commemorating the renewal of MOA Museum of Art, Nobunaga+Hiroshi Sugimoto "Quattro Ragazzi" (tentative title) planned by Mr. Hiroshi Sugimoto. In your book, "Utsutsu na zou", you state that to comprehend the West is to represent Japanese spirituality in the Western context. And I infer that through your exhibition Quattro Ragazzi (The Tensho Boy Mission to Europe),you are trying to renew your understanding of Christianity and the spirituality of Japanese culture, in other words, you are contrasting Japanese and Western cultures. Also you describe in your book that photographic image is one scene or a part of world history. It seemed to me that in "Quattro Ragazzi", you are employing the 400 years of space-time and history since Tensho (Momoyama period), and I overlapped the image of the ocean that the Tensho Boy Mission ventured upon in your "Seascapes" series. Also, in your written proposal for this exhibition that I received in the past, you said "reviewing what the West is" so I speculate that you are trying to rediscover or reflect the West and Japan of the present day through this exhibition. What are your thoughts on this?
Sugimoto
Regarding this, it may be by a simple coincidence, but when I was travelling Europe visiting old architecture to be made into my works, I had a chance to visit Teatro Olimpico ("Olympic Theater"), a theatre in Vicenza, northern Italy near Venice completed in 1585. The theater was the final design by the Italian Renaissance architect Andrea Palladio and is the oldest indoor theater in the world. When I visited the theater, I found a fresco painting of the Tensho Boy Mission visiting this theater in the lobby. The painting showed the boys getting a warm welcome reception and it seemed like they visited the theater the same year it was open. As I traced them by their footsteps, that was quite fascinating and I found a lot of things in common with my interests. I felt like the Pantheon in Rome or Leaning Tower of Pisa are somehow inviting me to come. I can't explain, but I just felt it. So I decided to follow their footsteps and take pictures of all the existing buildings that the Tensho Boy Mission saw. By doing so, we can share the experience or truly feel that we are viewing the same thing that those boys of that time saw. In other words, you can feel as if you had been transported through time to the age of the Tensho Boy Mission. "Let's get on a time machine and go time travelling to experience or rediscover the astonishment when we Japanese first met the West": this is one of the aims of this exhibition. Scenes of European Ways of Life Screens, showing Europeans depicted by Japanese artists, will also be exhibited. This exhibition will be held in New York as well, so it is our aim for both Japanese and foreign visitors to experience the time travelling.
Uchida
I'm sure "Nobunaga+Quattro Ragazzi" (tentative title) will be a fascinating exhibition. Thank you very much.