Events / Pick Up
Other
The best time to see the cherry blossoms at MOA Museum of Art is from the beginning of April to the middle of April
2019.03.22|Fri| - 2019.04.15|Mon|
*The best time to see the cherry blossoms at MOA Museum of Art is from the beginning of April to the middle of April
Best Cherry Blossom Spots in Atami
Atami has Japan's most earliest cherry blossoms. Atami Sakura, which blossom earlier than other cherry trees (about a month earlier than Kawazu Sakura), starts blooming from late January to mid-February and they usually blossom into dark-pink flowers.
In 1977, Atami cherry blossoms was designated as "the tree of Atami City."
The Itokawa Promenade is particularly popular as a scenic site of the Atami Sakura as well as that of Nagahama Kaihin Park, Nagisa Water Park (beach deck) and around Aami Baien (Plum Grove Garden).
Meanwhile, the 200 or so sakura trees, most of them somei-yoshino come into bloom in March.  Atami Sakura festival is held at Atami Castle every year and the outskirts of Atami Castle are known as particularly famous spot of cherry trees that are lit up at night with illuminations during the festival period.
Himenosawa Park is also famous place for cherry blossom viewing not only somei yoshino but also Oshima sakura.
MOA Museum of Art is another scenic spot for cherry blossom viewing. Especially from the Moore Square where Henry Moore's bronze work, "King and Queen" is displayed, visitors can take in beautiful views of cherry blossoms together with the sight of Hatsushima and Izu-Oshima Islands floating in the sea.
Cherry Blossoms at MOA Museum of Art
The cherry trees in the museum grounds which include somei-yoshino, beni-shidare sakura and zuiun sakura come into flower every year from the end of March to the middle of April.
Moore Square
Around the 150 somei-yoshino cherry burst into flower at the beginning of April.  Viewing the cherry trees in full bloom, much like carpet of cherry blossoms, with the Sagami Bay in the background is remarkable. The best time to view the weeping cherry on the lawn of Moore Square is around the middle of April.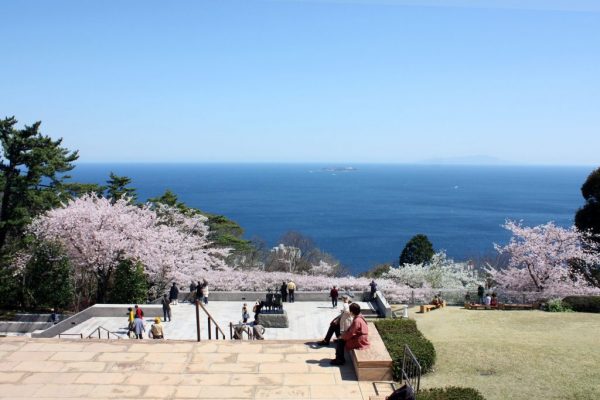 The Museum Tea Garden
There is a red weeping cherry tree in the ground of Ippaku-an Tea House in the museum tea garden. Although it is not normally open to the public, it is opened for public viewings during the blooming period. In the bamboo forest in the tea garden, there is another cherry tree Zuiun Sakura which was named after this area Zuiun-kyo, and it produces beautiful white flowers in the middle of April.