Exhibitions
URUSHI Tradition and Innovation
2019.03.15(Fri) - 2019.04.16(Tue)
Overview
Japan has one of the world's greatest traditions of Kogei craftsmanship, especially with 1300-year history, Japanese lacquer art –urushi has been developed to a high degree both in the area of technology and art and it has been praised as the flower of kogei.
After the modern era, many urushi artists worked hard in modernizing and popularizing Japanese urushi lacquer art and built the present-day basis. As the result, in 1954 Japan Kogei Association was established and it has become their base to pursue activities.
This exhibition commemorates the 35th Traditional Japanese lacquer Exhibition and  overlook the development of Japanese Urushi art based on the specific four themes that we have tailored; '1)Master Urushi Artists from the late Edo period to Pre-War Japan' 2)'Important Intanbible Cultural Property System and Japan Kogei Association' '3) Openings of Traditional Japanese lacquer Exhibition' '4) Urushi Artists who are currently active with the focus on 11living national treasures.
Advance tickets
Section 1: Renowned Modern Urushi Artists
Following the Meiji Restoration and the elimination of all daimyo domains, the craftsmen who had served the daimyo lost their positions, demand for urushi dropped dramatically, and the urushi community went into a catastrophic decline. Then, however, Meiji government policies to promote industry and encourage exports, the establishment of the Kiryū Kōshō Kaisha, Japan's first international trading company, to promote exports of craft objects, and the holding of National Industrial Exhibitions to stimulate industrial development breathed new life into the crafts, including urushi.
 Caught up in those changes, craftsmen were groping towards types of urushi that would both carry on traditional techniques from the Edo period and suit the new age.
 Kawanobe Itchō, who followed the tradition of Kōami, a maki-e urushi artist by appointment to the shogunate, produced work that retained the air and elaborate style of the urushi furnishings made for Edo-period daimyo. Ogawa Shōmin studied and emulated classic works, creating works in a style strongly redolent of Nihonga, a distinctively Japanese style of painting. Shirayama Shosai, having mastered the highest order of traditional maki-e techniques, created a delicately exquisite style that displayed a new sensibility.
 In time, outstanding urushi artists came to be concentrated in Tokyo, but exquisite techniques continued to be practiced in Kyoto and Kanazawa as well. In Takamatsu, the school of Tamakaji Zōkoku, who had originated the zonsei and kinma urushi techniques, continued to produce superb work.
 When the Tokyo Fine Arts School (now Tokyo University of the Arts) opened in 1889, urushi was treated as part of the national craft arts curriculum. Rokkaku Shisui, a member of the school's first graduating class, made major contributions in a wide range of fields, including the development of multicolored iro-urushi, academic research, conservation and restoration.
 In 1890, the system of artists by appointment to the Imperial Household was instituted to promote the arts. In urushi, Shibata Zeshin, Ikeda Taishin, Kawanobe Itchō, and Shirayama Shōsai received that honor.
In the Taishō period (1912-26), the Nōten, a series of design and applied arts exhibitions sponsored by the Ministry of Agriculture and Commerce, were held. Those exhibitions became the main venues at which members of the next generation of urushi artists, including Akatsuka Jitoku, Kōda Shuetsu, and Tsuishu Yōzei XX, displayed their work.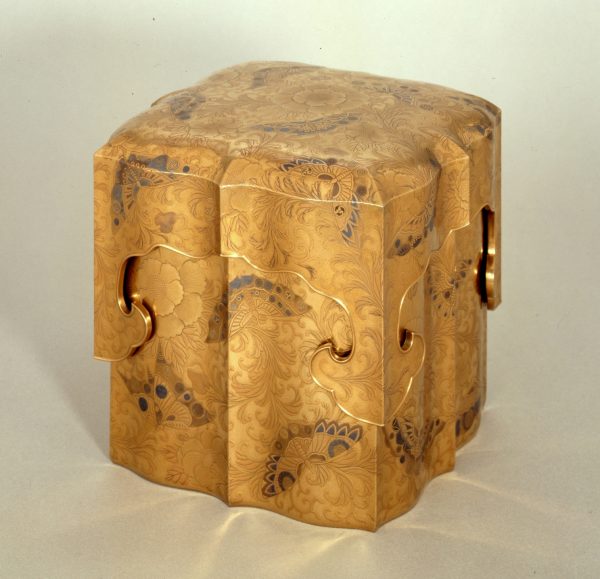 Box for agarwood with butterfly and peony design in maki-e 
SHIRAYAMA Shosai  MOA Museum of Art
Section 2: The Living National Treasure System and the Japan Kōgei Association
During the economic recovery after World War II, Japan underwent a rapid transition to mechanized industries, while the numbers of craftsmen were declining drastically, since many master craftsmen and their heirs had been conscripted and died in the war. Traditional craft techniques were thus on the verge of extinction. The Act on the Protection of Cultural Properties, enacted in 1950, however, was intended to halt the extinction of valuable techniques by offering protection to Intangible Cultural Properties.
 The new law protected intangible cultural properties: craft techniques as well as performing arts. Between 1952 and 1954, a total of 56 craft techniques were selected as "intangible cultural properties worthy of support." In the art of urushi, designated, documented techniques included Isoi Joshin's kinma, Otomaru Kōdō's chōshitsu, Takano Shōzan's maki-e, Mae Taihō's chinkin, Matsuda Gonroku's hyo-mon, and Matsunami Hoshin's kanshitsu. In March of 1954, the first Intangible Cultural Properties Japan Traditional Kōgei Exhibition was held to introduce the techniques that had been selected as Intangible Cultural Properties, the artists who were holders of them, and their work.
 In December of 1954, the Act on the Protection of Cultural Properties was revised. Its new provisions called for the selection of techniques of great historic or artistic value as Intangible Cultural Properties and the designation of the persons holding those techniques; that was the beginning of what is known as the Living National Treasures system. In response to those government measures, a growing drive to protect the techniques used in traditional crafts also emerged in the private sector. In July, 1955, Living National Treasures took the lead in founding the Japan Kōgei Association, a nationwide organization of craft artists. The association serves the function of supporting the intangible cultural property system by holding the annual Japan Traditional Kōgei Exhibition, creating records of techniques, supporting those who have inherited those techniques, and training their successors.
 This section of the exhibition presents work by Matsuda Gonroku, who played a central role in founding the Japan Traditional Kōgei Association, and four other early Living National Treasures.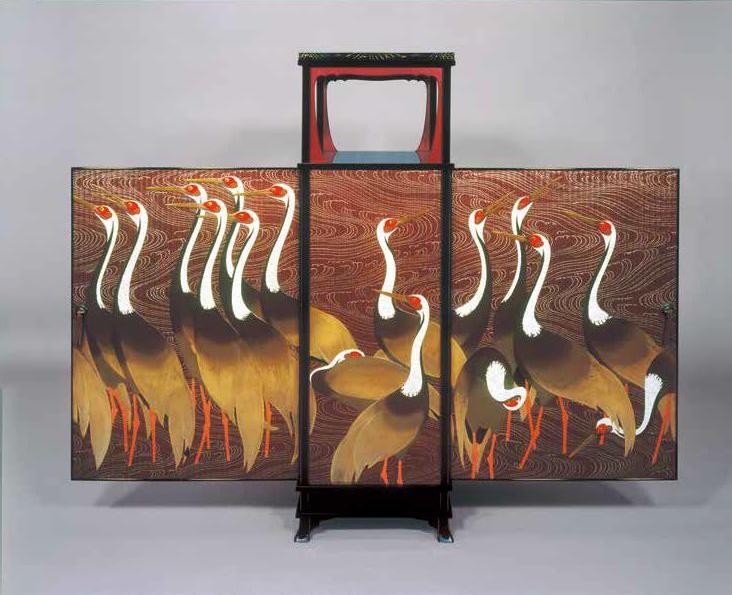 Cabinet with design of Hōrai (a mythical land in China) 
Ishikawa Prefectural Museum of Art
Section 3: The Japan Traditional Urushi Works Exhibition
The Japan Traditional Urushi Works Exhibition has been held since 1984, with artists who are members of the urushi section of the Japan Kōgei Association as its main organizers. While the Japan Traditional Kōgei Exhibition was held for the 30th time the previous year, it was difficult for new urushi artists, working in a field that requires sophisticated techniques, to be selected for that exhibition. The organizers of the new exhibition wanted to give them an opportunity to show their work and also to popularize the urushi arts more widely. The exhibition was promoted and led by Matsuda Gonroku, then chairman of the urushi section of the Japan Kōgei Association, who served as chair of the Japan Traditional Urushi Works Exhibition executive committee. In his short introductory message in the catalogue for the first exhibition, he stated, with great passion, his thoughts on maintaining tradition and developing it, ties to contemporary lifestyles, and promoting urushi arts. That exhibition was held in Ikebukuro, an area of Tokyo then developing at a remarkable pace, at the Seibu Art Forum, which continues to be its venue today.
 For the first exhibition, 83 urushi artists who were members of the Japan Kōgei Association participated, showing 111 works. Starting with the second exhibition, the format changed to the public call for submissions still in use today, and prizes, including the Commissioner for Cultural Affairs Prize, were instituted. In this section, we present urushi artists who were leaders or key artists in the Japan Traditional Urushi Works Exhibition in its early years but who have since died or ceased to be involved in creating urushi ware. Many were active in the Japan Traditional Kōgei Exhibition as well.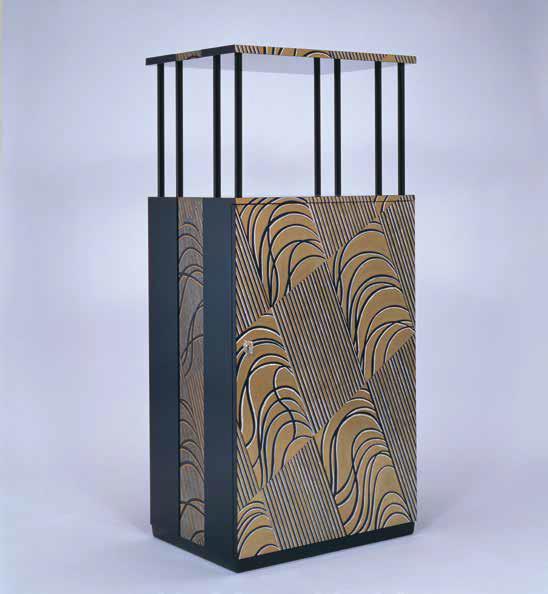 "Kirameku,"  cabinet in maki-e The National Museum of Modern Art, Tokyo
Section 4: The Artists Who Create the Present
This section features artists currently active in the Japan Traditional Urushi Works Exhibition. They include eleven Living National Treasures (holders of intangible cultural properties) as well as artists who won prizes at the 64th or earlier Japan Traditional Kōgei Exhibition. These sixty artists include many who are leading figures in the urushi arts world today as well as the young urushi artists who will be responsible for continuing the Traditional Urushi Works Exhibition in the future. There are, of course, many superb urushi artists other than these sixty, but the nature of the exhibition space required that we restrict the numbers included. As a rule, Living National Treasures may show two works and those who have won prizes in the past one. The artists include veterans who have been exhibiting for a long time as well as energetic younger artists with shorter histories of participation in exhibitions. Their techniques and styles are highly varied.
 These Living National Treasures all have had, to some degree, relationships with the artists mentioned the previous sections, notably by receiving instruction from Matsuda Gonroku or being influenced by him in other ways. Others have may be of different generations but were directly or indirectly influenced. These are artists and works that make us realize that, while they have thoroughly taken on the traditional techniques, they have made them their own, at a high level, are reinventing the fascination of urushi as a contemporary art in both technique and material and are presenting work with a strongly individual character that adds innovation in color, form, and motif.
 We note, moreover that while urushi artists once worked only in a limited set of locations, today urushi production is spreading nationwide. We are also seeing works in which a variety of techniques are combined, incorporating highly individual forms as well as varied types of surface decoration. The artists who create these works are also actively using new materials and techniques. We thus see many works in which we can read the artist asserting himself and expressing his individuality.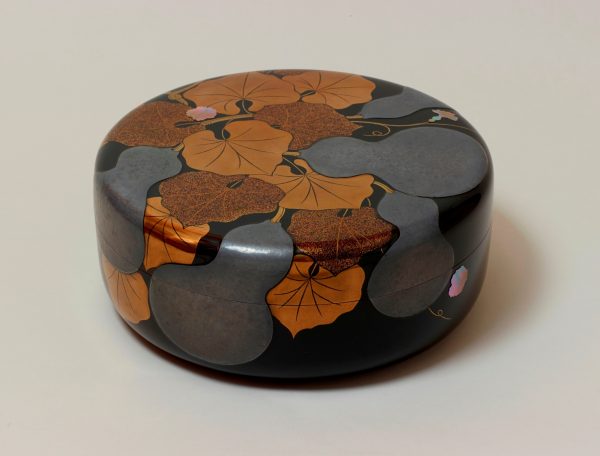 Box with gourd design in maki-e  MUROSE Kazumi
MOA Museum of Art