Events
Concert and Performances
Senju Mariko Violin Concert
2019.11.23(Sat) 14:00 -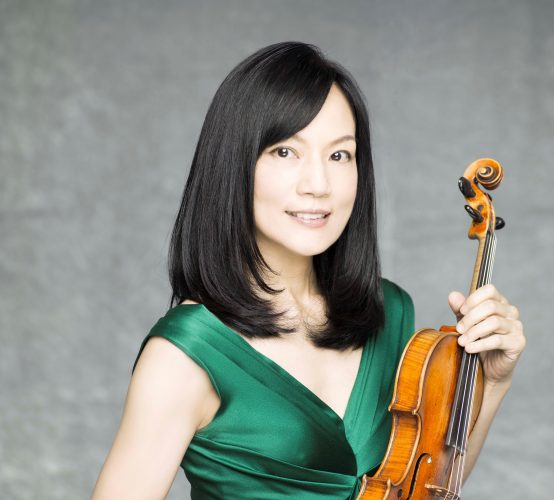 Overview
Date & Time: Saturday, November 23 (national holiday)  Start at 14:00 (venue opens at 13:30)
*Concurrent special exhibition: NINSEI Silver and Gold.
Venue: MOA Museum of Art the Noh Theater
Take a look at the Seating Plan
◆Performers
SENJU Mariko (violin) and MARUYAMA Shigeru (piano)
◆Program
Air on the G String by J. S. Bach
Violin Sonata No. 2 by Ludwig van Beethoven
Hungarian Dances in G minor Allegro molto by Johannes Brahms
Momiji by Okano Teiichi, arrangement by Yamashita Kosuke
Profile: SENJU Mariko
Mariko began the violin at the age of 2 and became the youngest winner of the Music Competition of Japan at age 15. She developed her musical talent under the late Italian conductor Giuseppe Sinopoli and made a debut in London and Rome in 1987 and '88, respectively. Today, she is active internationally, with many awards won over the years. She is a proud owner of a Stradivarius "Duranti." Beside her career as a violinist, Mariko extends her activities delivering lectures and presenting a radio program. She is also a published author of Listen to the Lyrics of Violin (2009) and other essays.
Ticket: ¥5,500 (Museum Membership concession: ¥5,000) *Reserved seats only 
*Children under schooling age are not permitted.
◆Tickets
Tickets are available for purchase from 10:00 Friday, June 7, 2019.
Bookings may be made at the museum reception counter (2F) or by telephone. Tickets are also available online on e+ booking system. Please note that booking by telephone involves payment by postal giro with the following details:
Payee: The Noh Theater, MOA Museum of Art Tel: 0557-84-2500
Account No.: 00860-2-187378 (MOA Museum of Art The Noh Theater)
Tickets are scheduled to be dispatched by post in early October
Buy Ticket Online