School Programs
Opportunity for school children to experience truly beautiful art
MOA Museum of Art has been carrying out various school programs intended for students and teachers of elementary, secondary, and high schools, giving them an opportunity to have a first-hand experience of the artworks from our museum collection.
Please inquire for details.
---
School Visits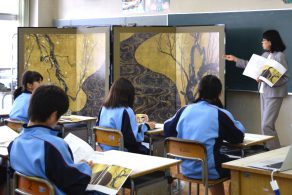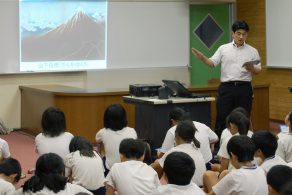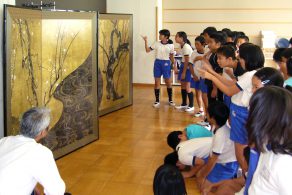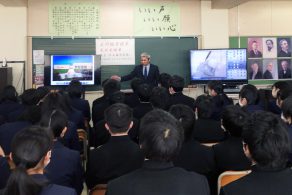 The program
A curator visits a school and gives a lesson in cooperation with the teacher.
The lecture gives an insight into the jobs of museum staff and curators and teaches how to appreciate an exhibition, using visual devices, replicas of works of art, worksheets, etc. We can present true-to-life replicas, including the National Treasure the Red and White Plum Blossom screen by Ogata Korin and the Tea-leaf Jar with design of wisteria by Nonomura Ninsei.
School Visit coverage areas.
Shizuoka Prefecture – Atami City, Ito City, Mishima City, Numazu City, Izu-no-kuni City, Kannamicho

Kanagawa Prefecture – Odawara City, Minami-Ashigara City, Yugawara-machi, Manazuru-machi, Hakone-machi, Matsuda-machi, Kaise-machi, Ooi-machi, Nakai-machi, Yamakita-cho, Ninomiya-cho
*Please inquire for other areas.  
How to apply
You can either inquire by telephone or fill out our prescribed application form and fax to the following number.
Click here for application form.(PDF)
Cost
There is no expense for school to pay (neither travelling expense nor a payment in kind necessary)
---
Museum Group Tour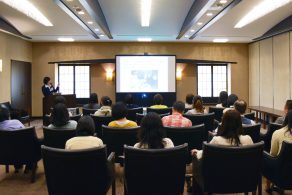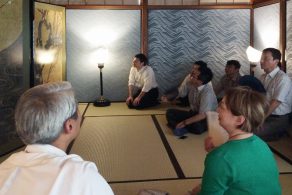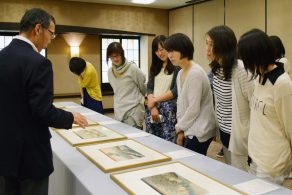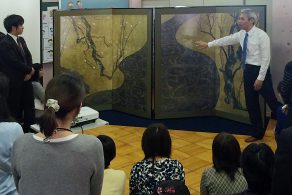 Content
Exhibition Guided Tour
This course is for participants to have a lesson about our exhibitions using audio-visual devices first, then go freely look around the exhibition. In the galleries, participants are divided into small groups(about 10 persons) and each will have outlines of exhibitions from museum staff while observing.
After having outlines, participants can go on an independent tour.

Content can be chosen from these 3 topics; Special Exhibits, Feature Exhibits, and Permanent Exhibits.

The outline explanation of the exhibition takes about 5 minutes and the time for the tour of the galleries can be set on request.
Independent Tour
This course is for visitors to have an independent tour after entering. It is recommended for visitors who wish to appreciate art more individually.
Art Tour for Teachers
Arrangements can be made on your request.
How to apply
For either course, please inquire for arrangement by phone or fill out and fax the application to the following number.
application to the following number. (PDF)
Admission Discount and Exemption
Elementary school students, junior high school students, and escorting teachers are free of charge
---
Work Experience Trial Study
We are providing children work experience trial study for their integrated learning. We provide children the programs peculiar in a museum such as customer service and curator duties while wishing that the experience will help them in their way of living at present and in the future.
---
Flower Arrangement and Chanoyu Experience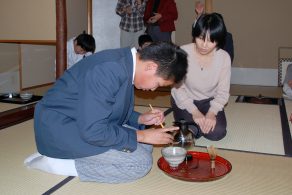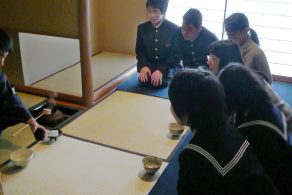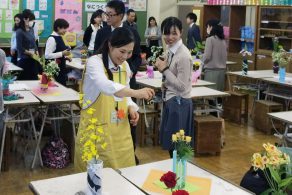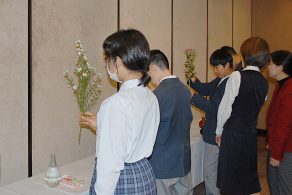 Enjoying Flower Arrangement Course
After getting some outlines for arranging flowers, participants will arrange flowers and enjoy viewing their works.
Certified Instructors of MOA Art & Cultural Foundation will help you, so there is no need to worry.
The following are the different courses which you can chose one from.
Participants: elementary and secondary school students and their teachers

Group size: Up to 12 people at a time. Duration: 45 minutes

Cost: 500 yen (expense for flowers)
Chanoyu Experience Course
Our museum teahouse is used for this course. The participants will have a lesson how to appreciate tea utensils and later have tea in the way of tea ceremony.
(up to 15 people at a time/ the time required: 30minutes) (In the case of over 15 people, the session will be split into separate times. Content is negotiable in accordance with your request.)
---
Inquiry and Application
MOA Museum of Art School Program
Responsible party: Yashiro
26-2 Momoyama-cho, Atami, Shizuoka 413-8511
TEL. 0557-84-2511 FAX. 0557-84-2570