Exhibitions
The 21st Mokichi Okada Award Exhibition ~Front line of Japan's contemporary Kogei Craft Art
2019.06.28|Fri| - 2019.07.16|Tue|
Kogei Craft Art is one of the leading art and culture of Japan and it has started to attract the attention of people from both within Japan and throughout the world. Furthermore, with the Tokyo Olympics 2020 fast approaching, this is an excellent time to convey the attractions of Japan's contemporary Kogei Craft Art to the world.
  Mokichi Okada Award has been striving to help pioneer the development of contemporary Kogei Craft Art.  For this 21st Mokichi Okada Award, 28 artists who play an active part in the various crafts field were chosen by Japan's best-known artists from Nitten (National Art Academy ) Exhibition and Japan Kogei Association as well as the leading researchers of the world of the arts. As a result of a thorough examination, Mr. Tsuneo Aimu has been selected for the Grand Prize, Mr. Kodo Aoki for the New Face Award and Mr. Noboru Fujinuma for the Special Prize.
  Please enjoy the outstanding works of Japan's top Kogei artists and young promising Kogei artists!
Prize-winning Artists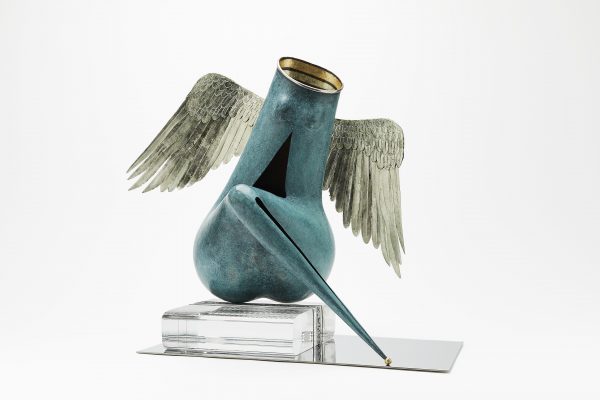 The Grand Prize Tsuneo Aimu (metal working)
Born in 1949 in Aichi prefecture. Completed post-graduate work at Tokyo University of the Art. He received multiple awards at exhibitions including the Nitten (Japan Fine Arts Exhibition) and Japan Contemporary Arts and Crafts Exhibition. With copper and various other materials including iron, stainless steel, glass, gold and silver and using hammering technique, he has been creating and presenting sculptural works. A form that boldly incorporates curves and overwhelming volume is the unique feature of his works.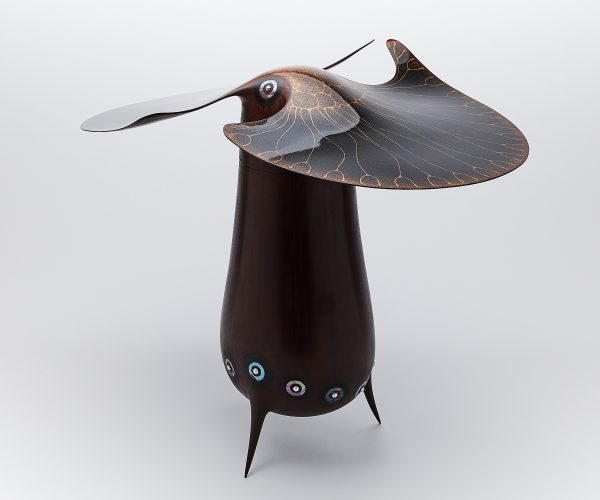 The New Face Award  Kodo Aoki  (lacquer work)
Born in 1976 in Tokyo. Completed post-graduate work at the Tokyo University of the Arts. While submitting works to exhibitions with a focus on the Nitten (Japan Fine Arts Exhibition) and Japan Contemporary Arts and Crafts Exhibition, he also teaches as an associate professor at the Tokyo University of the Arts where he graduated. Using dry lacquer technique that allows to form lightweight and durable shaping, he has been presenting ingenious works full of originality including his representative Amulet Box series.
The Special Prize  Noboru Fujinuma (bamboo craftwork)
Born in 1945 in Tochigi prefecture. He has been submitting his works to exhibitions centered on Japan Kogei Craft Exhibition and has been awarded many prizes. In 2004, he was awarded the Medal with Purple Ribbon and in 2012, he was recognized as an "Important Intangible Cultural Property" (living national treasure) for his bamboo craftwork.  After the Great East Japan Earthquake, he has been working energetically for the support of stricken area holding workshops of Japanese traditional Kogei craft.  He also established "Children's Future and Dream Fund" and actively engaged in aesthetic volunteer activities for the local community.