Exhibitions
Current
The Thirty-six Views of Mount Fuji and the Fifty-three Stations of the Tokaido from the Museum Collection
2022.05.13(Fri) - 2022.07.18(Mon)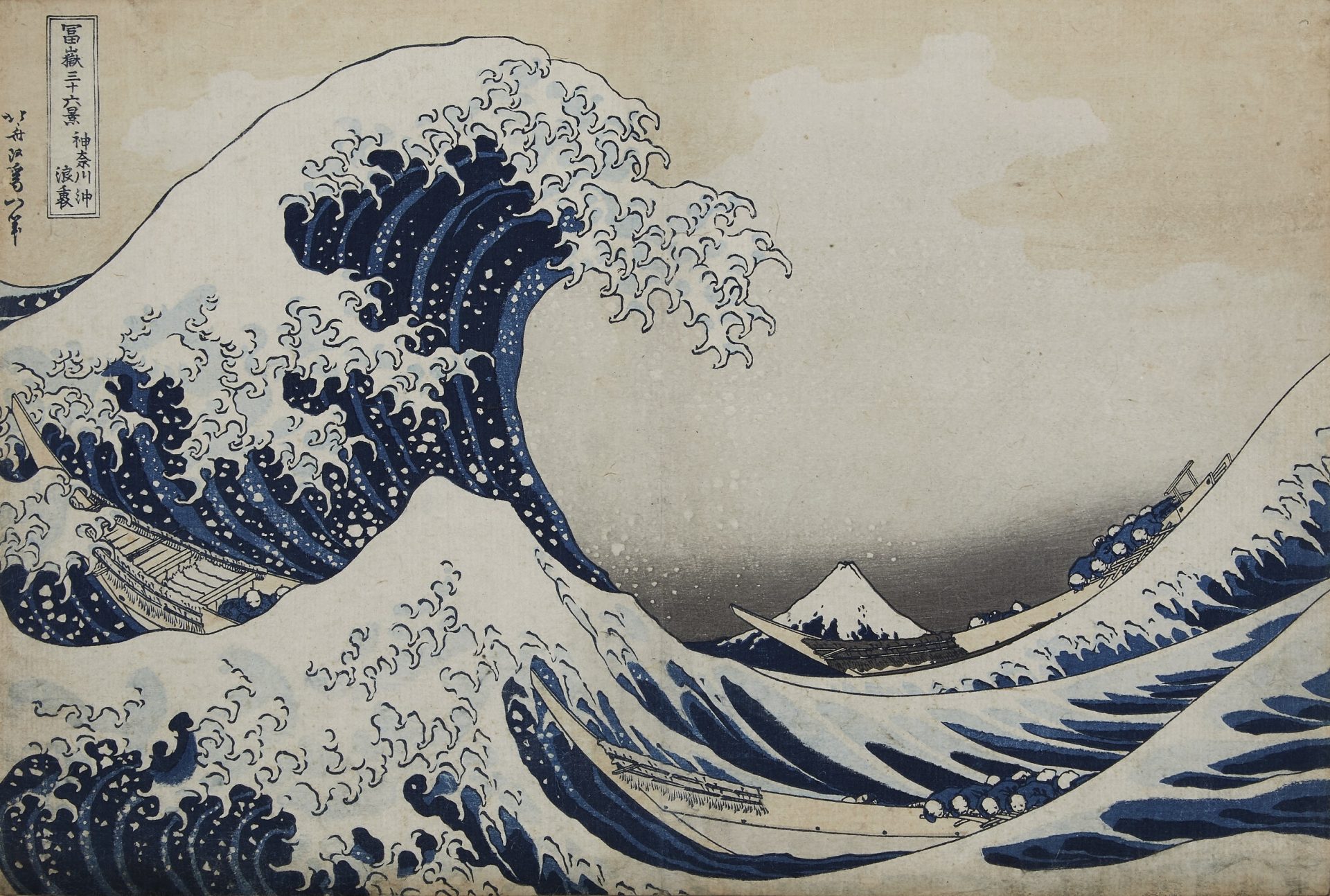 Overview
Part I: Fri. May 13 to Thu, June 16  
Part II: Fri. June 17 to Tue. July 19  
This exhibition showcases the two greatest ukiyo-e series by the world-renowned artists Katsushika Hokusai and Utagawa Hiroshige. Ukiyo-e is a particular painting style that was developed during the Edo period (1603–1867), backed by the thriving economy and flourishing culture of the capital city Edo as the basis of the enriched lives of townspeople. Earlier in the seventeenth century, the mainstream ukiyo-e was mostly portraits of famous courtesans and kabuki actors, reflecting the public entertainment that became readily accessible. When leisurely travels entered the popular culture, landscape pictures caught people's imagination. The series such as the Thirty-six Views of Mount Fuji and the Fifty-three Stations of the Tōkaidō enjoyed an immense success as they served to stimulate people's longings to travel. 
Katsushika Hokusai (1760–1849) was a multi-talented artist whose work encompassed from illustrations for novels (yomihon) to brocade pictures (nishiki-e) and brush paintings. His influence on the artists of later times was extensive, even inspiring many impressionist artists in Europe. The Thirty-six Views of Mount Fuji, published by the Eijudō in c. 1831, was particularly well received, partly for the movement to worship Mount Fuji that was spreading among townspeople of Edo. The series stirred great interest among people through its extraordinary compositions and the striking colors, including the sensational Berlin blue.  
Utagawa Hiroshige (1797–1858), meanwhile, started his career as an illustrator at the atelier of Utagawa Toyohiro, but soon his landscape prints made his name. He was a prolific artist, who created many excellent prints of landmarks and scenic views. The Fifty-three Stations of the Tōkaidō was published in 1833 as the Hōeidō edition by Takeuchi Magohachi the printer. The series brought fame to the artist for his lyrical depiction of people and customs observed through travels.  
This two-part exhibition offers an opportunity to indulge in the richness and finesse of the finest landscape ukiyo-e woodcuts known to the world. 
Katsushika Hokusai
1760–1849 
Katsushika Hokusai was born in 1760 in the east of Edo, Honjo Warigesui. As a young man, he became a carver at a printmaking studio. Aspiring to be a painter, he joined the atelier of Katsukawa Shunsho (1726–1792) in 1778. Following the death of his master, Hokusai moved on and explored different schools of painting, including the Kano, Tosa, and Rinpa. He even studied Western paintings. During his career, he changed his pseudonym more than thirty times. These include Hokusai, Taito, Iitsu, and Manji, to name but a few. Renaming was in a way a sign of attaining a new style of expression. He remained active throughout the 90 years of his life, producing many legendary woodcuts and literary illustrations, including his sketch compilations Hokusai Manga. 
The Thirty-six Views of Mount Fuji
This series of woodcuts was published in c. 1831 from a prominent printer and publisher, Nishimura Eijudō. Hokusai had a great success with this work partly due to the popular interest in traveling and the thriving veneration of Mount Fuji of the time. The printing went on for over several years. Initially, a complete set had 36 prints. It is believed, however, that 10 more designs were added later in response to the high acclaim it garnered. His creative compositions cleverly incorporate geometrical shapes among which Mount Fuji is depicted effectively from different angles, in different seasons and lights. Another particularity is his ingenious use of the deep-blue pigment—a rare, imported cobalt blue. Hokusai already developed a portfolio of many images of landmarks and scenic landscapes, but this series became a cornerstone in his career, elevating landscape woodcuts to an established genre of ukiyo-e.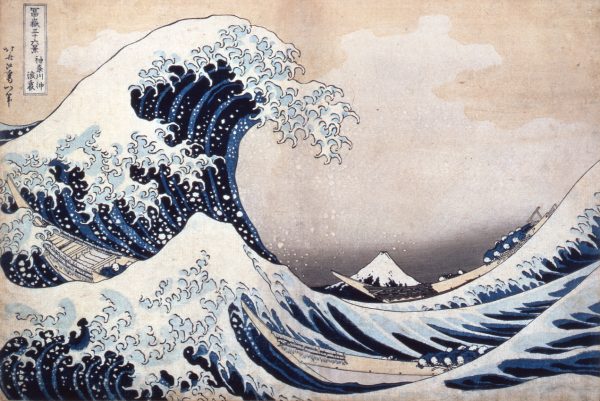 UNDER THE WAVE OFF KANAGAWA (on Part I)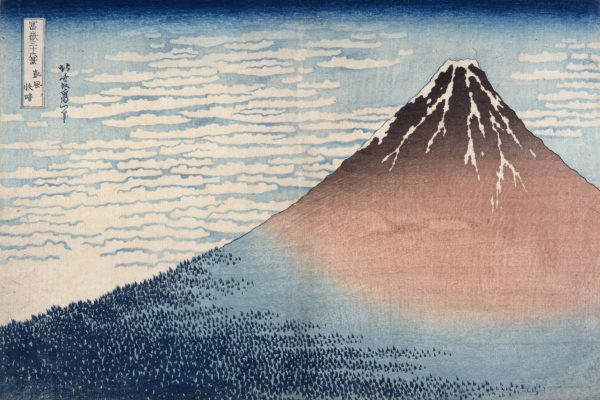 CLEAR DAY WITH A SOUTHERN BREEZE (on Part II)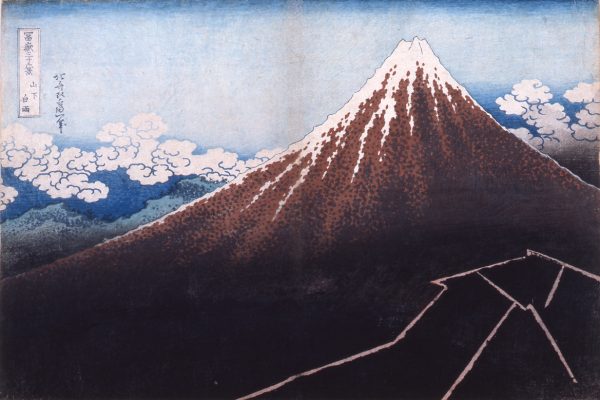 THUNDERSTORM BEHEATH THE SUMMIT (Part I)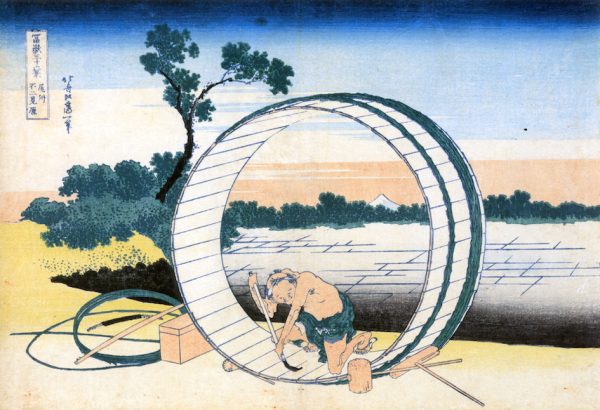 FUJIMIGAHARA IN OWARI PROVINCE (Part I)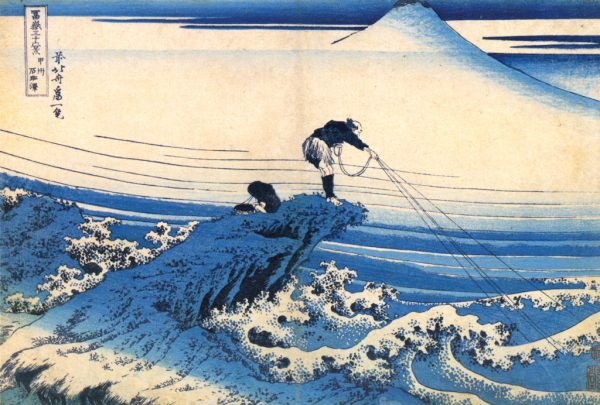 KAJIKAZAWA IN KAI PROVINCE (Pat II) 
 
Utagawa Hiroshige
1797–1858 
Utagawa Hiroshige, birth name Andō Tokutaro, was born in Edo as a son of the shogunate's official fire brigade officer. He lost his parents when he was 13. Two years later, he joined the atelier of ukiyo-e master Utagawa Toyohiro (1774–1830). Initially, he set out specializing in bijinga portraits, but subsequently he discovered his passion for landscapes in his Famous Places of the Eastern Capital, a series that depicted landmarks in vibrant colors, published in c. 1831. The following work, the Fifty-three Stations of the Tōkaidō, proved to be an immense success. His poetic style was marveled by many people, and he remained prolific throughout his career, subsequently producing One Hundred Famous Views of Edo and other masterpieces.  
The Hōeidō edition of the Fifty-three Stations of the Tōkaidō
This is a set of 55 large-size woodcuts, published in c. 1833. It was initially a joint publication between two printing companies, the Hōeidō (owner Takeuchi Magohachi) and the Senkakudō (owner Tsuruya Kiemon), but subsequently, the former took over the printing rights.  
The series is based on a theme of the lodging stations along the major highway Tōkaidō, that connected the shogunate capital of Edo and the Imperial capital Kyoto. The local customs, specialties, and other features representative of each location were effectively depicted in his illustrations, with his skillful arrangements in terms of seasons, weather conditions, etc. These images inspired many townspeople of Edo for traveling. His attention to details extended even to faces and movements of people he drew. 
The success of the Hōeidō edition made Hiroshige a leading figure in landscape woodcut ukiyo-e. The success was followed by two more versions of the Tōkaidō series and more than 20 designs in relation to the highway.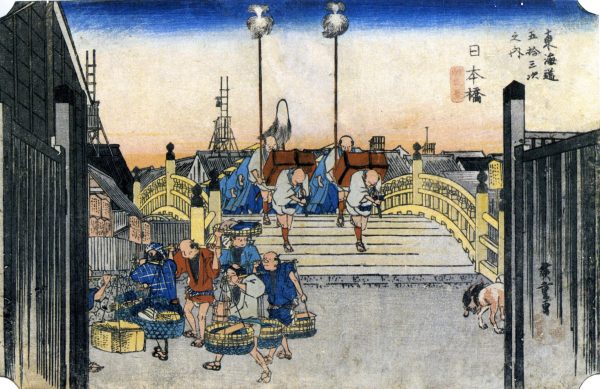 NIHONBASHI: MORNING SCENE (on Part I)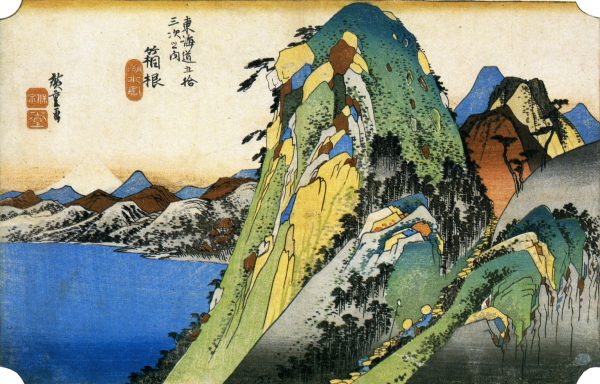 HAKONE: VIEW OF THE LAKE (Part I)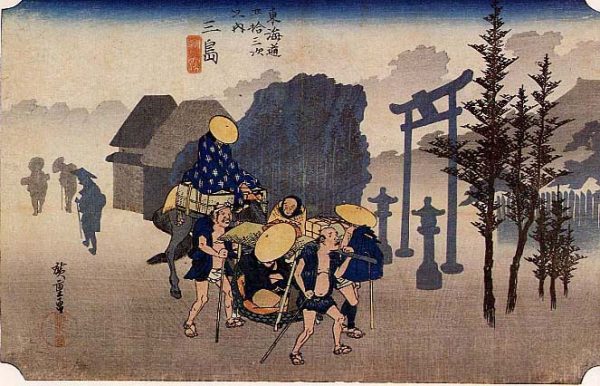 MISHIMA: MORNING MIST (Part II)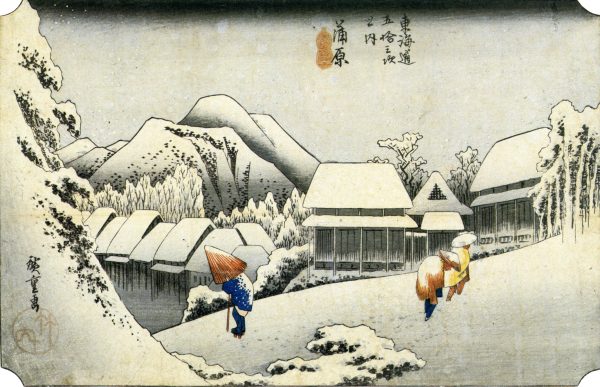 KANBARA: SNOWY NIGHT (Part II)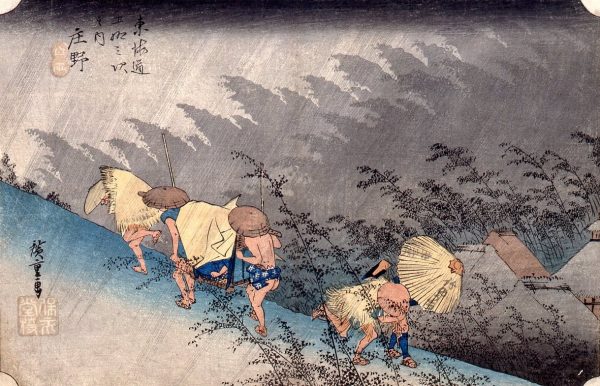 SHŌNO: DOWNPOUR (Part II)