History and Founder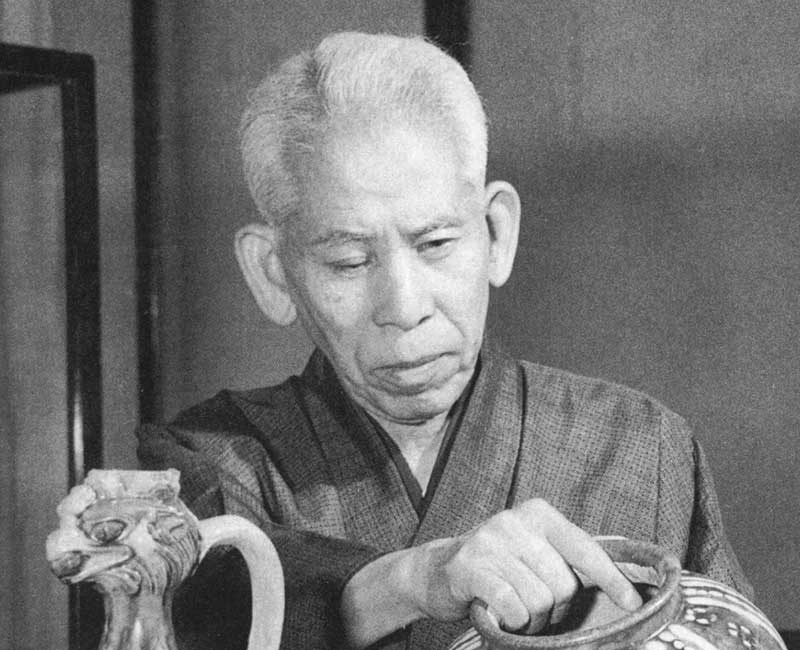 The founder
Okada Mokichi (1882-1955) laid the foundation for MOA Museum of Art, following his first art gallery opened in Hakone, Kanagawa. Okada studied Japanese painting at the Tokyo Art College (present-day Tokyo University of the Arts), an academy established by Okakura Tenshin. However, his compromised health forced him to leave the school prematurely.
After his convalescence, Okada trained himself in artisanal craftwork such as maki-e (lacquerwork) and became a successful entrepreneur by designing and marketing women's hair and fashion accessories. His creations were highly appreciated at various expos.
However, he suffered the loss of his family and experienced a significant setback in his business caused by 1923's catastrophic earthquake and the world economic recession. The devastation led him to explore philosophy and the world's great ideologies, and he eventually developed his own philosophy: works of refined art and their beauty cultivate humanitarian disposition in people and, by extension, form sound society.
It was Okada's lifelong desire to conquer the world's ill-health, poverty and violence, and realize an ideal world. He aspired to construct a prototype of beauty that nurtured aesthetic sensitivity in people through experiencing arts, and to create an art museum in its center, which promotes Japanese culture to the world.
About the founder Mokichi Okada
Dec. 23, 1882
Born in Hashiba, Tokyo, into a family of an established, well-to-do pawnbroker, Musashiya
1897 (age 15)
Studied at the Tokyo Art College (predecessor of the Tokyo University of the Arts) until an eye disease forced him to discontinue
1905 (age 23)
Opened his own shop Kōrindō in Tokyo, dealing in cosmetics and accessories for women
1907 (age 25)
Started a wholesale business of fashion accessories for women, establishing Okada Shōten in Tokyo
Developed understanding of the school of art Rinpa through friendship with Shimomura Kanzan, Kimura Buzan, and Okakura Tenshin
1914 (age 32)
His design of kanzashi hair pin won an award at the Taisho Exposition Tokyo
1915 (age 33)
His patented imitation jewelry "Asahi Diamond" enjoyed a commercial success: he had it patented in nine countries; he also had 11 registered utility models, and Okada Shōten enjoyed sound business growth
1919 (age 37)
The bankruptcy of his bank thew his business into a serious financial difficulty
1920 (age 38)
Attempted to save his business by issuing company shares to investors but struggled in the post-war economic depression
1923 (age 41)
His business suffered critical damage in the major earthquake that devastated the Tokyo area
1935 (age 53)
Inaugurated Dainihon Kannonkai on January 1
Moved to Kaminoge, Tokyo in October, naming his residence "Gyokusenkyō"
1936 (age 54)
Launched Dainihon Kenkō Kyōkai (Japan association of health) in May to pursue a world without ill health
1937 (age 55)
Started his agricultural explorations for a method of organic farming
1944 (age 62)
Moved to Gora, Hakone in Kanagawa; started the construction of Shinsenkyō, the first model that embodied his concept of a utopian state of the world empowered by beauty of nature and the arts

Moved to Atami in October; then alternated between Hakone (summer) and Atami (autumn to spring)"}">Moved to Atami in October; then alternated between Hakone (summer) and Atami (autumn to spring)
1945 (age 63)



 

Purchased a land on a hillside in Atami and started the construction of Zuiunkyō, his second utopian model"}">Purchased a land on a hillside in Atami and started the construction of Zuiunkyō, his second utopian model
 
With the acquisition of the Nabeshima ware overglaze dish with design of peach (registered important cultural property) started proactively collecting artworks
1946 (age 64)
His residence Kanzantei was constructed at Shinsenkyō (completed on August 15)
1948 (age 66)
Acquired a new residence in Atami, named it Hekiunsō
1950 (age 68)
Established Sekai Meshiyasyō on February 4
Tea house Sangetsu-an was constructed at Shinsenkyō
Acquired the painting Lady under a Tree (important cultural property) to prevent it from being purchased by a foreign collector
1951 (age 69)
Presented his vision for the "creation of true civilization" to the general public at the Tokyo Metropolitan Hibiya Public Hall (on May 22)
1952 (age 70)
Opened Hakone Museum of Art on June 15
Inaugurated Tomei Art Preservation Association in September (renamed MOA Art and Culture Foundation in 1972)
Acquired a land in Sagano, Kyoto, and named it Heiankyō; started the construction of the third model of his utopian concept in October
Donated a reproduction of the painting Women of a Public Bathhouse (important cultural property) to the UNESCO, mediated by the Ministry of Foreign Affairs
1953 (age 71)
The construction of an annex to the Hakone Museum of Art completed on May 25
Inaugurated the Association of Nature Farming in December
Acquired the Calligraphy Album Tekagami Kanboku-jo (national treasure)
1954 (age 72)
Acquired the Red and White Plum Blossoms (national treasure) by Ogata Kōrin on February 4
Held an exhibition of select brush-painted ukiyo-e at Mitsukoshi Nihonbashi store, the major department store in Tokyo, in April
A panoramic hall Suishōden was constructed at Zuiunkyō in Atami (completed on December 11)
1955 (age 73)
Acquired the overglaze Tea leaf jar with design of wisteria (national treasure) by Nonomura Ninsei on February 8
Passed away at his residence Hekiunsō on February 10
1957
Atami Museum of Art opened on January 1
1982
MOA Museum of Art opened
2017
Museum renovated and reopened on February 5
History
1952
June 15: Hakone Museum of Art opened
Sept. 15: Tomei Art Preservation Association incorporated
1952
May 25: Hakone Museum of Art Annex completed
1957
Jan. 1: Atami Museum of Art (predecessor of MOA Museum of Art) opened
1976
May 1: Construction of MOA Museum of Art started
1981
Dec. 23: MOA Museum of Art construction completed
1982
Jan. 1: MOA Museum of Art opened
Feb. 27: Tomei Art Preservation Association renamed MOA Art and Culture Foundation
1983
June 20: The main building and the circular hall won the Building Contractors Society Award
1985
Mar. 2: The Kōrin's residence reconstruction project
July 31: The first outdoor Noh program The Takiginoh
Dec. 22: Three-year anniversary reception
1986
Feb. 19: The first tea ceremony event Kōrin Chakai
June 2-3: The first tea ceremony celebrating Ogata Kōrin and Kenzan
1988
Aug. 1: The first Okada Mokichi Award
1989
Dec. 15: The first MOA Children's Art Exhibition
1992
Oct. 25–Nov. 18: Special exhibition "Nonomura Ninsei" for the ten year anniversary, co-hosted by Ishikawa Prefectural Museum of Art
1997
Oct. 10–31: Special exhibition "Rediscovering Atami" for the 15th anniversary of the museum and celebrating the 60 years of municipal administration of Atami
2002
Feb. 5: Reception celebrating 50 years of Hakone Museum of Art and 20 years of MOA Museum of Art
2012
Mar. 6–25: Exhibition on tour at Sendai City Museum "MOA Museum of Art Collection" in support for the Tohoku Region after the 2011 major earthquake, in association with the Agency for Cultural Affairs of Japan program for promoting museum activities
July 21: Reception celebrating 60 years of Hakone Museum of Art and 30 years of MOA Museum of Art
2013
Apr. 1: MOA Art and Culture Foundation renamed Mokichi Okada Art and Culture Foundation
2015
Feb. 4–Mar. 3: Special exhibition "Japanese Iris and Plum Blossoms" as part of Kōrin and Modern Art, in celebration of 300 years since Kōrin's death
2016
Mar. 7: Museum closed for renovation
2017
Feb. 5: Museum completed the renovation and reopened